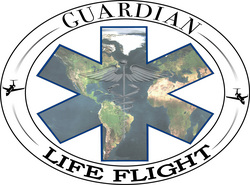 I'm so excited about having Dr. Kini on our team. I have worked side by side with him for several years and have been so impressed with his knowledge and expertise in emergency medicine
Charleston, SC (PRWEB) December 19, 2008
Guardian Life Flight LLC, provider of domestic and international Air Ambulance Services, announced today the addition of Sam Kini, M.D. to it's team. With over 20 years practicing emergency medicine, Dr. Kini is a valuable asset as Guardian Life Flight continues to grow in the air ambulance industry.
"I'm so excited about having Dr. Kini on our team. I have worked side by side with him for several years and have been so impressed with his knowledge and expertise in emergency medicine", said Jennifer Trapanese, Chief Operations Manager at Guardian Life Flight.
Dr. Kini has been on faculty at MUSC in the division of Emergency Medicine since 1997. He is currently and Associate professor and Residency Director for the EM residency. He started his emergency medicine career in 1988 after 13 years of General Surgery Practice. He currently serves on the CME committee at MUSC, South Carolina Medical Association and the American Academy of Emergency Medicine. In his capacity as the Residency Director, he serves on the GME committee as well.
Guardian Life Flight LLC, with over 20 years of health care experience, provides hospitals and individuals with domestic and international Air Ambulance services. Each flight is staffed with highly skilled and compassionate medical flight crews that truly understand the patients every need. Medical flight crews consist of Critical Care Registered Nurses, Respiratory Therapists and Paramedics that provide all levels of patient care for both adult and pediatric patients. Guardian Life Flight is dedicated to making a difference in your time of need. Relocating a loved one can be stressful. Having Guardian Life Flight can ease that stress, and make the impossible…, possible. The determination, care, and experience of our team, will allow us to remain elite in Air Ambulance Services.
For information on this announcement, contact our Human Resources Department of Guardian Life Flight Air Ambulance Company or visit GuardianLifeFlight.com.
Media Contact:
Jeanine Kotchish
Human Resources Department
Guardian Life Flight
1030 Jack Primus Road. Suite 2104
Charleston, South Carolina 29492
Toll Free: 877-767-9111
Fax: 803-753-9015
Information @ guardianlifeflight.com
###