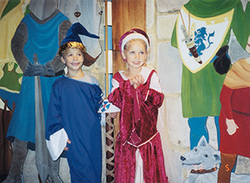 Charleston, SC (PRWEB) December 29, 2008
Lowcountry Children's Museum offers 'Hands-On' Fun for the Holidays and Beyond
The Children's Museum of the Lowcountry, located on 25 Ann Street in Historic Charleston, SC specializes in hands-on, interactive experiences for children. Enticing exhibits allow children to think creatively, dress-up, problem-solve and have tons of fun! The environments are designed for children ages 3 months to 12 years and their families.
January 2009 and beyond continues special programs like Toddler Time and Kinder Art each Tuesday morning at 10:30 a.m. There are sing-a-longs, stories, colors, animals and shapes.
'Little Chefs' is a class that the museum offers every Wednesday at 3:15 p.m. Would you like to make a caterpillar out of bananas? This class offers a creative and edible way to play with your food. These creative young chefs get to take home the 'fruits of their labors'.
Puppet Shows are performed by Play Specialists every Thursday at 3:30 p.m. Traditional stories like Rapunzel, Hansel & Gretel, Cinderella, as well as, more contemporary stories bring gales of laughter from young observers.
Every day of the year, children love dressing up in costumes at Creativity Castle, or in full rain gear to navigate the 'doings' at the full-size Shrimp Boat. Lowcountry Children's Museum is a not-to-be-missed stop for families of all ages while visiting Historic Charleston and the beaches.
ResortQuest offers visitors to Kiawah Island, Seabrook Island, Isle of Palms and Wild Dunes effective ways to save while staying in fully-equipped private homes, villas and cottages. Ask about the exciting Free Now, Free Later Promotion, offering an opportunity for two free nights in rental properties. The area offers miles of pristine beach, championship golf, tennis, biking, nature tours, shopping, dining, and water-related activities, and historic downtown Charleston is just a short drive away. ResortQuest Privileges offers special rates and discounts from area venues. Call 1-866-253-3633 to find out about special discounts on Kiawah Island, Seabrook Island, Isle of Palms and Wild Dunes vacation rentals.
About ResortQuest
ResortQuest, one of the nation's leading vacation rental hospitality and resort real estate companies provides a one-stop resource in North America's premier resort destinations. ResortQuest is the largest marketer and management company of vacation condominiums and home rentals in the U.S., based on a portfolio of over 10,000 vacation rental properties. ResortQuest has local check-in offices at every one of its destinations and full staff on-site to provide the highest service levels to guests. With the inclusion of Partner Affiliates in North America and Europe, ResortQuest now offers over 50,000 vacation rental choices in over 100 destinations world-wide. With over a billion in sales, ResortQuest Real Estate is one of the nation's leading real estate companies focusing exclusively on resort properties, offering superior brokerage services in the country's premier beach, ski and golf destinations.
For additional information, visit http://www.resortquest.com or call 1-800-GoRelax.
###