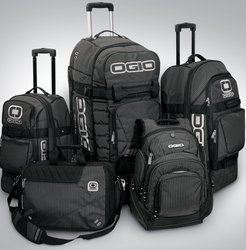 We've always had the long-term vision of making OGIO the gear bag maker of choice for all categories of sports
Bluffdale, Utah (Vocus) December 19, 2008 -
Mark Kuryak, formally with Easton Bell Sports, has been appointed as the new VP Global Action/Professional/Sport for Utah-based OGIO. The announcement was made today by the gear bag manufacturer's president, David Wunderli.
"We've always had the long-term vision of making OGIO the gear bag maker of choice for all categories of sports," Wunderli explains. "Mark has proven expertise in elevating sales, service and distribution to the level that innovative products warrant. We're excited to unleash his skills on what we know to be the category with our highest growth potential."
Kuryak will oversee the sales and marketing for OGIO's entire student, professional and action sports divisions. Currently, these categories create and distribute technical gear bags designed specifically for motocross, snow, skate, and surf as well as work, travel, school, and fitness.
As a senior sales executive at Easton and most recently as its vice president for hockey sales, Mark was respected throughout his industry for his aggressive growth and product launch initiatives. He helped elevate Easton from its small hockey presence in the early 90's to what is now arguably the most innovative global leader in the hockey world.
ABOUT OGIO
OGIO International, Inc. is an award-winning global leader in gear bag design, recognized for its athlete-inspired technology. The privately held Utah Company, founded in 1987, distributes products nationally and internationally under the OGIO brand name, and operates an original equipment manufacturer division to produce gear bags for other internationally known brands. In 2004, OGIO's design team received the coveted Business Week IDEA Award for design excellence. The brand's collection includes an extensive line of athlete-designed golf bags; back packs; snow, skate and surf packs; school packs; motocross bags; messenger bags; and other active gear. For more information, visit http://www.ogio.com.
CONTACT:
Kelly M. Mooney / This Just In PR & Marketing
503.722.4080 or 801.450.1009
###