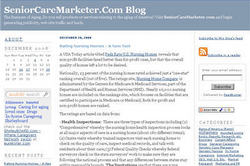 Capitola, Cal. (PRWEB) December 22, 2008
Wellsphere has named SeniorCareMarketer.com's The Business of Aging blog a Top Health Blog in the Aging & Senior Health community of Wellsphere. Wellsphere is a healthcare a site with over 2 million visitors per month, helps millions of people live healthier, happier lives by connecting them with the knowledge, people and tools they need to manage and improve their health.
The Business of Aging blog is authored by Mark Willaman, founder ofSeniorCareMarketer.com, a service that helps companies selling products and services relating to the aging population generate online visibility, web site traffic and sales leads.
The blog, http://blog.seniorcaremarketer.com/business_of_aging/, provides useful information and commentary about various business and marketing topics in the rapidly-growing senior care market
SeniorCareMarketer.com and it's Business of Aging blog is a direct response to the growing number of companies marketing products and services related to the expanding elder care industry, fueled by the aging of the Baby Boomer generation. An estimated 70 million Americans will be over the age of 65 by the year 2030 - equal to one out of every five Americans.
About Fisher Vista, LLC
Fisher Vista, LLC (http://www.fishervista.com) is a marketing and information services firm focusing on the senior care and human capital industries. The company's flagship product is HRmarketer.com, the No. 1 online marketing and PR service in the human resources industry, and Senior Care Marketer (http://www.SeniorCareMarketer.com). Both help service providers get noticed and get sales leads through increased publicity, website traffic and improved search engine rankings.
This press release was distributed through eMediawire by Senior Care Marketer (SeniorCareMarketer.com) on behalf of the company listed above.
# # #