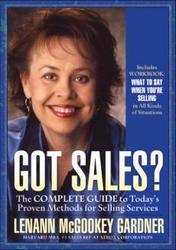 In my business, I look at the investments people have made in my consulting services, or my training efforts, or my keynote speech, and compare that to their improved sales results after my work
Albuquerque, NM (Vocus) December 26, 2008 –
Surveys suggest that the most common New Year's resolution for 2009 is getting out of debt or saving money, and improving one's approach to sales may be the easiest way to earn more, according to Lenann McGookey Gardner, sales and marketing consultant and author of Got Sales? The Complete Guide to Today's Proven Methods for Selling Services (Jarndyce & Jarndyce).
"With the economic downturn, many folks want to find ways to make more money," says Gardner. "And you're in sales -- whether you recognize it or not -- if you're looking for a job, or are a business owner, or work in customer service or in any customer-contact role. Committing to three simple actions to improve your sales may be the best financial resolutions you can make for 2009."
Resolution One: I will keep my attitude up and stay positive.
"The data says that positive people sell more, and none of us are as positive as we think we are," says Gardner. She cites a study of Americans that recorded and transcribed a day's worth of conversation. The researchers looked for the words No, Not, Won't, Can't, Don't, and Aren't, and discovered these negatives were used by the participants more frequently than they judged themselves, prior to the experiment.
"Negativity doesn't sell, so speak positively," explains Gardner. "Fortunately, the English language is flexible enough for us to convey the same meaning without using a negative! Saying 'I can have that for you on Tuesday' has the same meaning as 'I can't have that for you until Tuesday,' but the emotional impact is quite different."
Resolution Two: I am committed to follow-up on EVERYTHING.
"Today, more than ever, follow-up is key to getting results," says Gardner. "People are moving so fast, they're crazy busy. But a little secret about selling is this: systematic, methodical follow-up often gets results, even if your selling skills are less than the best."
The optimal interval to follow-up with a new prospect is within four business days of the first interaction, even if there is no immediate interest on their part; a second follow-up should happen within 30 days of the first interaction, for a total of three contacts within the month in which a prospect meets you. "That's probably often enough for you to be 'on their radar screen' if they have a need for what you have to offer," says Gardner.
Resolution Three: I will quantify my results.
"You need to know your worth. I'm astounded at how many people fail to think in terms of 'return on investment' in the services they provide. That applies to people seeking jobs too, you need to be able to quantify the impact you've had on your last employer's business," says Gardner.
"In my business, I look at the investments people have made in my consulting services, or my training efforts, or my keynote speech, and compare that to their improved sales results after my work," explains Gardner. "Most of the time, the improvement in profits from one year to the next speaks volumes. You need to be able to say, 'Because of X investment or action, we had Y results.'"
Lenann McGookey Gardner, a Harvard MBA and a past #1 worldwide sales rep at Xerox, offers keynote speeches on state-of-the-art selling and closing skills, executive and sales coaching for business success, and workshops. Her book Got Sales? The Complete Guide to Today's Proven Methods for Selling Services is the one guidebook highlighting all the latest research and data on what's working now in contemporary selling. More information is available at http://www.YouCanSell.com.
###