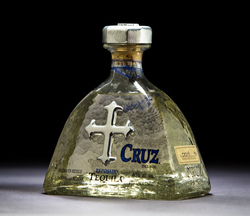 And this week's national product launch with Binny's is producing enviable numbers as well.
Scottsdale, AZ (PRWEB) December 31, 2008
Football fans across North America will be arriving at or tuning into this year's Bowl Games in record numbers and the CRUZ del Sol Tequila (CRUZ Tequila) family is pleased to announce that their national product launch with Binny's of Chicago, will now support game festivities from coast to coast.
So, how good are sales across football and ultra premium tequila? According to Kelly McWilliams at TicketNews, leaders in event market analysis, BCS Championship Bowl tickets helped Dolphin Stadium return to number one in the nation this week. In Arizona, the sun was also shining as Shawn Schoeffler, Tostitos Fiesta Bowl & Insight Bowl spokesman said, "The 55,000+ tickets that have been sold for the Insight Bowl have already broken last year's record." Spirit sales also look bright. "Fans, product quality, fine establishments, and search engines drove 286 percent sales growth following our tequila's Arizona launch," remarks Joseph Pep Katcher, President of CRUZ Tequila. "And this week's national product launch with Binny's is producing enviable numbers as well."
Why do some entrepreneurs strike gold? "Taking our ultra premium spirit national is an important step that we could not have completed without the support of our loyal customers, retailers, connoisseurs, and most importantly the CRUZ Tequila family," adds Todd Nelson, Vice President of CRUZ Tequila. "We learned early on that it doesn't matter what the competition may be. It matters what you are passion about."
About Binny's
Binny's Beverage Depot is a $100,000,000 retailer doing business in Illinois since 1949. Each year more than1,000,000 customers worldwide shop at the company's retail locations and web site. When visiting the greater Chicago area please consider visiting one of their 20 locations in: Buffalo Grove, Downtown at Hyde Park, Lakeview, South Loop, or in Des Plaines, Elmwood Park, Glen Ellyn, Glencoe, Highland Park, Lake Zurich, McHenry, Naperville, Niles, Orland Park, Plainfield, River Grove, Schaumburg, Skokie, St. Charles, and Willowbrook.
If you would like to learn more about Binny's and their history, please visit: http://www.binnys.com
About CRUZ Tequila
CRUZ del Sol Tequila is the award-winning, flagship brand of Los Diablos International which is headquartered in Scottsdale Arizona. The recognized principals of the company have a combined 50 years of global business experience that is focused on redefining the ultra premium tequila market. As part of their commitment to give back to their community, CRUZ was proud to be a part of the Emerging Business Program for the 2008 Arizona Super Bowl XLII host committee and sponsored by Salt River Project. Most recently, the company has been featured in BizAZ, Business Gazette, Jeunes Restaurateurs d'Europe, Phoenix Business Journal, Phoenix Magazine, The Republic newspapers, Scottsdale Magazine, State Press, and Wine & Spirits Daily along with other leading industry publications. In addition, CRUZ also takes an active role in contributing to quality non-profit organizations. Globally, the company proudly donates seven percent of its profits to various national and international charities and strongly supports sustainability by using only eco-friendly recycled materials in its product packaging.
To learn more about CRUZ Tequila, their national launch, and quest to redefine the ultra premium tequila market with their innovative spirit, please visit their website at: http://www.cruztequila.com
CONTACT INFORMATION:
Todd Nelson, Vice President
CRUZ Tequila
V: 480.458.7487
Website: http://www.cruztequila.com
Kelly A. Isley, Partner
Corcoran Associates
Business Advisors & Public Relations
V: 480.814.7471
F: 480.998.9088
Website: http://www.corcoranassoc.biz
###