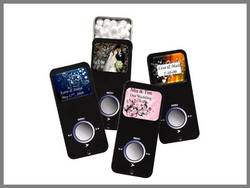 New York, NY (PRWEB) December 10, 2008
New York based IMAGEfavors announces its grand opening of chic favors, truly personalized to suit today's modern lifestyle.
Many of their favors can be customized to compliment any special event from weddings, birthdays, baby showers, bridal showers, corporate events, sweet16/quinceanera's and more. They offer a gallery of hip images for you to choose from, which can be placed on many of their stylish pieces like their MP3 mint tin, calypso mini notebook kit, picture phone mint tin, eco-friendly favors, and artisan coaster, just to name a few.
Along with their personalized items, you'll also find collections of just cool favors. Their mission is to offer distinctive favors that are truly different inspired by the hottest style trends. It's for those who think out of the box and are truly looking for a unique favor that's not seen everywhere.
IMAGE favors founders, Susan and Joe, are hands on. They pride themselves in offering specialized service and will work with anyone looking to customize a favor or simply to answer questions. Their goal was to create a favor site that stood apart from the many internet shopping venues as much more than an online store. It has a cool sort of vibe, as do all their products.
About IMAGEfavors.com
Is an online retailer offering unique personalized favors and gifts for any special occasions. They offer free shipping and do not charge any additional fees for customization. Their set price is inclusive of everything, so there are no surprises.
For additional information on Image Favors contact: Joe Guzman at or visit http://www.imagefavors.com
Contact:
Joe Guzman
joeg @ imagefavors.com
IMAGE favors
888-303-3339
###