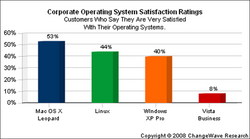 The decline in PC sales going forward is yet another symptom of these recessionary economic times
Rockville, MD (PRWEB) March 27, 2008
The U.S. economic slowdown has led to a pullback in PC spending by both consumers and corporations, according to two recent ChangeWave surveys.
A late February survey of 4,427 consumers found only 8% saying they'll be purchasing a laptop in the next 90 days -- a record low for the past 12 months in a ChangeWave consumer buying survey.
A similar low for the year was seen in desktop PCs, with just 6% of consumers saying they'll be buying one.
On the corporate side, a February ChangeWave survey found planned PC purchases also slowing sharply, with just 73% of 2,204 respondents reporting their company plans on buying laptops in the next quarter -- down 4-pts from a year ago. The same pattern was also seen for corporate desktops (70%), with planned purchases down 5-pts to a 12-month low.
"The decline in PC sales going forward is yet another symptom of these recessionary economic times," said Tobin Smith, founder of ChangeWave Research and editor of ChangeWave Investing. "The economy is sneezing, and even normally resilient sectors like PCs are catching a bad cold."
(Detailed charts on PC buying trends, along with additional ChangeWave findings can be downloaded at changewave.com/pcs).
The Effects On Computer Manufacturers:
The slowdown in PC purchasing is hitting some manufacturers harder than others.
APPLE: Planned purchases of Apple (AAPL) computers remain relatively strong, even in the slower buying environment. Apple remains the leader among consumers who plan to buy a laptop (31%) over the next 90 days -- only 2-pts below the all-time high recorded in ChangeWave's previous survey in January. Similarly, Apple planned desktop computer purchases (28%; down 1-pt) are close to record levels.
Importantly, Apple's consumer market share is up more than 50% from a year earlier. Moreover, corporate Mac purchases are also near record highs, with laptops (7%) unchanged from previously and desktops (6%) down just 1-pt.
In terms of customer satisfaction, Apple continues to set the standard among corporate respondents who use the Leopard operating system -- with 53% saying they are Very Satisfied with the software. In comparison, Windows XP Pro has a 40% Very Satisfied rating and Microsoft Vista Business hardly registers at all with just 8%.
DELL: After a small gain in planned consumer purchases in a January ChangeWave survey, Dell (DELL) is once again losing momentum going forward.
Planned laptop purchases (28%; down 2-pts) and desktop purchases (32%; down 4-pts) are down markedly from the previous survey. Moreover, corporate planned buying of Dell PCs is also down, with desktops (32%; down 3-pts) and laptops (32%; down 1-pt) falling to new lows.
HEWLETT-PACKARD: In a surprise finding, Hewlett-Packard (HPQ) also shows weaker PC sales going forward, including a drop in consumer planned buying of desktops (18%; down 5-pts) and laptops (19%; down 2-pts). On the corporate side, planned purchases for H-P desktops (17%) have fallen 1-pt, while laptops (14%) have dipped 2-pts.
One mitigating factor for H-P is that nearly 70% of their sales occur outside the U.S., where the current slowdown is likely having less of an impact. Note that our ChangeWave surveys focus mainly on the U.S. market.
When we asked respondents living outside the U.S. about Hewlett-Packard planned purchases, H-P registered higher market share numbers for corporate laptops (17%), corporate desktops (20%) and consumer desktops (22%).
To sign-up for real-time email alerts from ChangeWave on emerging trends in technologies and companies, visit changewave.com/hotwire.
About ChangeWave:
ChangeWave runs a proprietary network of more than 15,000 highly qualified business, technology, and medical professionals in leading companies of select industries -- credentialed experts who spend their everyday lives working on the frontline of technological change. ChangeWave surveys its members on a range of business and investment research and intelligence topics, collects feedback from them electronically, and converts the information into proprietary quantitative and qualitative reports.
###