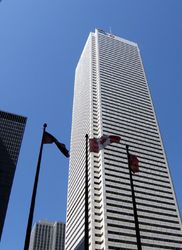 It's just part of the official transition from AIG Canada to Bank of Montreal.
Toronto, Ontario (PRWEB) April 26, 2009
Don't panic, says Life Insurance Canada broker Lorne S. Marr. "It's just part of the official transition from AIG Canada to Bank of Montreal."
AIG Canada policy holder Policy holder Dawn Thompson is not happy - "Do you not think AIG could have had the courtesy to notify me? What if I want to speak to someone at BMO  about my policy - there are no contacts, no information.  Talk about being blindsided!"
Apparently BMO Life Insurance did send out notices but a lot of people didn't get them or read them.
"It happens all the time. People get so many documents with final legal print that they just don't read. Of course they should, but they don't."
LSM Insurance has put up an official contact page for their many AIG policy holders who have now moved to BMO Life Insurance. And they are answering questions from their clients directly as well. The page is a help not just to their own clients but to anyone holding an AIG Canada policy.
"Any former AIG life insurance policy holder can find all the information they need to contact BMO Life about their policy, even for claims," says Mr. Marr.
"It's a big transition, but with the Bank of Montreal, we feel our clients are in good hands."
For the moment telephones are ringing off the hooks at the BMO and at customers banks.
The difficult part is if someone doesn't want to be with the Bank of Montreal for either personal reasons or past experience with BMO. In that case, the individual has to consider moving to another life insurer. AIG Canada simply doesn't exist anymore.
But moving a life insurance policy has to be done very carefully according to Mr. Marr.
"If you don't take care when you move your life insurance policy you can face penalties, lose coverage and end up paying higher premiums. A good independent life insurance broker knows how to make sure that doesn't happen. But make sure you call us first before you cancel your old policy."
Sometimes there is a pot of gold at the end of the rainbow though, reassures Mr. Marr.
"Many times our clients end up with lower premiums and higher coverage. Of the hundreds of life insurance policies in the Canadian market - there is a right one for everyone. We help our clients find that one."
###