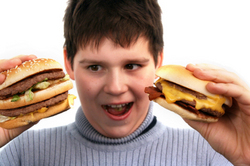 North Hollywood, CA (PRWEB) January 27, 2009
Fast-food giant McDonald's reported Monday its 2008 net profit soared to $4.3 billion in 2008, compared with $2.3 billion in 2007. Len Foley, creator of the "Bionic Burger" video sensation http://www.BionicBurger.com (with millions of hits on YouTube.com) and curator at one of the world's oldest Burger Museums in North Hollywood, CA, knows why.
According to Foley, "McDonald's has over 33,000 restaurants worldwide. The only way they can make their hamburgers and fries taste virtually the same at every restaurant is by taking the 'uncertain variables' out of the food service equation: namely, they replace food (which has a tendency to taste different depending on the season, environmental conditions, and quality) with chemicals, which always look, smell, and taste the same."
"That's why McDonald's is so profitable in this slow economy. They are not selling food, which is expensive; they are selling chemical concoctions, which are very cheap," Foley continues.
When Len Foley first heard about McDonald's "ageless" hamburgers in Morgan Spurlock's book "Don't Eat This Book", he was intrigued--and alarmed. Matt Malmgren, the original collector, claimed his hamburgers and Big Macs, that looked and smelled normal, had been sitting untouched for more than 20 years. Naturally Len had to find out more.
When Len discovered the display was genuine, he was prompted to help prove the truth to the world. With the help of some friends, he produced THE BIONIC BURGER, a short docu-drama about the immortal burgers. Word spread fast.
Find out what McDonald's, Wendy's, and Burger King don't want you to know as Len reveals:

The startling number of chemicals fast food burgers contain--so much that they aren't really food at all.
Why you're getting an unwanted bonus with every bite of burger (pesticides, to be precise), and why you're better off eating the wrapper the burger came in.
What your children need to know about fast food.
How to make your own Bionic Burger, and much more!
Credentials: After stumbling across Matt Malmgren's immortal burgers, Len Foley set out to help prove the reality of chemical-laden fast foods. He produced a three-minute video dramatization of the phenomenon, posted it on YouTube, and found himself with an Internet hit on his hands. Now, he speaks about the dangers of fast food to audiences across the country. Visit Len's website at http://www.BionicBurger.com to learn more about the Bionic Burger and view the infamous YouTube video.
Media Contact:
To interview Len Foley, creator of the famous Bionic Burger video, please contact him at len (at) lenfoley (dot) com or call 323-684-6762
###