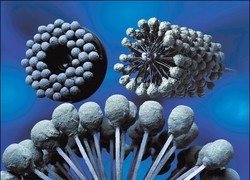 These engines have pistons as wide as your hat
Torrance, CA (PRWEB) January 5, 2009
The latest and most versatile tools for performing maintenance on cylindrical IDs is the flexible ball hone. Somewhat resembling a spinning bottlebrush, this abrasive technology tool is characterized by abrasive globules that are permanently mounted to flexible filaments that are attached to a center shaft. This extremely flexible, low-cost tool can be used virtually anywhere for sophisticated surfacing, de-burring, edge-blending, cleaning and rebuilding of cylinder IDs.
For big bore engines used in rail, earthmoving, shipping and mining operations it is crucial to service life that the cylinder liner walls be deglazed, refinished and crosshatched when these engines are overhauled. Overhauling big diesel engines or servicing big pumps and valves means dealing with big bores. If the ID of those bores is not cleaned or resurfaced correctly with appropriate technology, the consequences are likely to be fewer operating hours between overhauls or degraded performance.
"These engines have pistons as wide as your hat," states Clarence Mayers, coordinator for Diesel Supply Company (Odessa, Texas). "We sell ball-style hones to users and repair shops who overhaul the big bore diesels and natural gas engines so they can get a longer service life cycle. Mainly they are used on cylinder liner walls so new rings can seat properly and prevent excessive oil consumption."
"With hydraulic and hydronic pumps and valves used in mills, petrochemical plants and process industries, critical tolerances sometimes similar to those of internal combustion engines apply to pumps of many styles and applications," says Patrick Sullivan, a veteran facilities management consultant.
"In chemical, refining and wastewater operations, abrasive technology such as honing may be required to remove corrosion or the formation of clay, wax or other solids may prevent proper valve operation or block lubricants," Sullivan says.
Plateau Finishing removes loose, cut, torn and folded material on the surface of the cylinder, maintains valley depth for oil retention and removes peaks that would otherwise damage rings or seals. The process produces a surface with greater bearing area which increases both the life of both the cylinders and the piston rings. The result is that more lubricant is retained with less seal wear, improving engine efficiency and performance.
Although a large-diameter flexible hone is somewhat unique, it is needed to resurface liners and cylinder bores in larger engines such as the Worthington, Clark, Ingersoll-Rand and Cooper-Bessemer models used for heavy-duty applications as well as ElectroMotive-type engines used by the rail industry.
The flexible hone is available in various grit sizes and diameters up to 50-plus inches (4 mm to 36 inches are standard sizes) from Brush Research Manufacturing, along with additional abrasive technology products for heavy-duty applications. International distribution: Wkd Walter Krupp Dieseltechnik Gmbh, Germany 49-2225-92010 and Pacehigh Limited, United Kingdom 441-707-327788.
For more information contact:
Heather Fowlie
Brush Research Mfg. Co., Inc.,
Los Angeles, CA 90022;
Phone: (323) 261-2193;
Fax: (323) 268-6587;
info@brushresearch.com
http://www.brushresearch.com
###