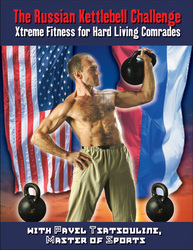 Vodka, Pickle Juice, Kettlebell Lifting and Other Russian Pastimes
Los Angeles, CA (PRWEB) January 5, 2009
In 1998, an obscure Russian trainer, Pavel Tsatsouline, gatecrashed the American fitness establishment with a dramatic call-to-arms: "Comrades! Unite with the Kettlebell! You only have your weakness and fatness to lose!"
Those in the know have hailed Pavel's landmark manifesto as the spark that ignited the "Russian Kettlebell Invasion", forever altering our fitness landscape for the better.
When the Berlin Wall came tumbling down on November 9, 1989, history seemed to rewrite itself overnight. Brute impossibilities and entrenched doctrines were swept away in one magnificent gesture. A new world of hope and opportunity sprang into being.
One man who took advantage of "Gorbachev's Gift" was a young, former Russian Special Forces trainer, Pavel Tsatsouline, who cheerfully swapped the rigors of the Russian Arctic for his equally cold but far more welcoming new home in St. Paul, Minnesota.
How best to repay his new country for the opportunity to live in the United States?
Why, by sharing with the US all those prized strength and performance secrets that had allowed the Soviets to be so dominant in the Olympics and to forge the legendary toughness of their Spetsnaz commandos.
And if Pavel could identify one crucial device that gave the Soviets their formidable edge in strength and toughness?
For Pavel, it had to be the Russian Kettlebell russiankettlebells.com …
Pavel published his historic article on kettlebells in Milo magazine, December 1998, http://ironmind.com. "Vodka, Pickle Juice, Kettlebell Lifting and Other Russian Pastimes".
Pavel's article sparked immense interest and curiosity amongst many of America's strength and personal training elite. Pavel responded by publishing his now classic The Russian Kettlebell Revolution http://www.dragondoor.com/b15.html and establishing the world's first kettlebell instructor certification system http://www.dragondoor.com/author_workshops.html. Pavel's kettlebell instructors now teach in 43 countries worldwide and in 49 states in the US.
Sports stars like Lance Armstrong, movie stars like Sylvester Stallone and Penelope Cruz, the Secret Service, the US armed forces, including the Navy Seals, and numerous "tough" professions such as police and firefighters now swear by their kettlebells.
But most astonishing has been the growing popularity of kettlebells in the mainstream American fitness market, as the average male and female fitness enthusiast rush to take advantage of the kettlebell's remarkable ability to simultaneously manage bodyweight, enhance endurance and build strength.
To celebrate the 10th Anniversary of the Russian kettlebell's introduction to America here are some golden passages from Pavel's original Kettlebell manifesto:
"Vodka at night. Pickle juice in the morning (the best thing for hangover!). Throwing some kettlebells around between this hangover and the next one. A Russian's day well spent.
The 'kettlebell', a cast iron weight which looks like a basketball with a suitcase handle, is an old Russian toy. My ancestors played with it between skirmishes with Germans, Turks, and many other neighbors who wanted a piece of Mother Russia. Later it was the key in forging the mighty power of dinosaurs like Ivan 'the Champion of Champions' Poddubny. Poddubny, a joker who made himself a 16kg cane and amused himself watching pencilnecks at coat checks in restaurants drop it on their toes, and one of the strongest men of his time, trained with kettlebells in preparation for his undefeated wrestling career and six world champion belts. Thanks to K-bells, Poddubny would toy with much larger opponents, lift them over his head, and slam them into the ground!
Introduce explosive repetition KB lifts into your workout after heavy, low rep work. Start with the one arm power snatch. Stand over a kettlebell, your feet about shoulder width. Inhale, arch your back, push your butt back, and bend your knees -as in a power squat. Reach for the bell with one hand, the arm straight, while keeping the other arm away from your body.
Tighten your body, and rip the weight off the floor and straight over your head in one movement. Do not lift with your arm, but rather with your hips. Project the force straight up, rather than back -as in a jump. You may end up airborne. It is OK.
Fix the weight overhead in the press behind the neck position for a second, then let it free fall between your legs as you are dropping into a half squat. Bending your arm at this point is optional. The moment the kettlebell is slightly behind your legs -but before you kiss your ass -explosively snap your hips through for another rep. Make sure you are on your heels when you start pulling. When you have done your reps with one arm, switch hands and immediately continue
In a 1930s classic Russian novel The Golden Taurus by Ilf and Petrov two small timers after a quick ruble search through the modest household of a man they suspect of being a millionaire. Finally the dorks steal his kettlebell and saw it in half hoping it is cast of pure gold. There is no gold inside the kettlebell. Only raw power, android work capacity, and an immortal's ability to tolerate physical punishment."
(To obtain Pavel's complete Milo magazine article, contact IronMind at 530-272-3579 or ironmind.com).
Because of the kettlebell's offset center of gravity and unique design, the kettlebell challenges the body faster and more effectively than traditional weight lifting. The result? Dramatic increases in strength, power, speed and endurance that help even older athletes compete at the highest levels.
While the fastest-growing segment of the kettlebell market are middle-aged women who are attracted to the kettlebell's uncanny ability to burn off unwanted fat, the most vocal advocates of the kettlebell's benefits have been the martial artists, police, military and professional athletes who experience an immediate upgrade in their real-life physical performance.
The kettlebell has come to symbolize a return to the old school training methods, stressing brute toughness and durability achieved with the simplest of exercise equipment.
The spark that ignited a revolution in personal fitness: how a once little-known Russian training device, the kettlebell, has rewritten the code for truly effective strength, cardio and weight loss. To learn more about Russian kettlebells visit http://www.russiankettlebells.com
To arrange an interview with Pavel Tsatsouline or receive review copies of Kettlebell books and DVDs! contact John Du Cane at 651-487-3828.
Dragon Door Publications, Inc is the leading provider in the United States of cutting-edge information on strength and conditioning for high performance.
###