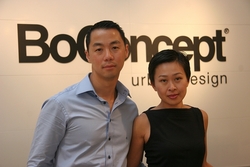 We brought BoConcept® to Edgewater because we believe this furniture is perfect for the working professionals in the area. Our modular furniture optimizes any living space while providing style and great prices
Edgewater, NJ (PRWEB) January 6, 2009
BoConcept® New York, the purveyor of Danish home furnishing, proudly announces the opening of their newest store in Edgewater, New Jersey. Owners, Niki and Shaokao Cheng, are extremely excited to open their eighth store in the New York Metropolitan area.
Located in an outdoor mall right on the water, with beautiful views of the Manhattan skyline in the distance, Edgewater is home to many young professionals and families as a bedroom community to New York City. The latest BoConcept® retail location is perfectly situated on the Promenade for customers who are in need of stylish furnishings. The 5,000-square-foot store will hold the full array of merchandise at affordable prices that BoConcept® is now so well-known for. "We brought BoConcept® to Edgewater because we believe this furniture is perfect for the working professionals in the area. Our modular furniture optimizes any living space while providing style and great prices," says Shaokao. "Its design is urban chic, modern, and versatile. The furniture is modular, and can be combined many ways: Sofas can be mixed with different seats, covers, and legs; shelving units can be interchanged freely; chairs, tables and beds can be assembled in countless ways."
Niki Cheng adds, "They are all available in a range of beautiful finishes, styles and materials. Customers can create a customized high-end look and feel to their home at a price they will love."
The BoConcept® Furnish Virtual Design Center will be added to this location as well. A useful tool for those who want to make the most out of their home, this computer program empowers shoppers to effortlessly design their own residence, right before their eyes. Furnish® empowers shoppers to view and print both a three-dimensional as well as eagle-eye view of their living space. With Furnish® there is no more guesswork, since shoppers can see how the furniture will look in their space before they buy it. The program can also be downloaded from http://www.boconcept.com.
BoConcept® Edgewater is located at 27 Promenade at City Place, Edgewater, NJ. Phone number: 201-313-8188.
Company Background
BoConcept® Edgewater will be the eighth franchise store opened by owners Niki and Shaokao Cheng. Their first store, BoConcept® Madison Avenue, opened in 2003. Since then, they have opened four more in New York City, one in Paramus, New Jersey, and one in Long Island, New York. BoConcept® furniture has appeared on shows such as NBC's The Apprentice, Bravo's Queer Eye for the Straight Guy, and Kathy Griffin: My Life on the D-List. BoConcept® New York has supported charitable organizations such as Gabrielle's Angels Foundation, Rainforest Foundation - US, the Ovarian Cancer Research Fund, and the Felix Organization.
# # #