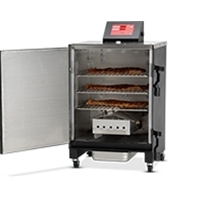 Ponca City, OK, USA (PRWEB) January 9, 2009
Things just got easier for the backyard barbecue cook. Cookshack Smokers for Home Use have been updated with an electronic time and temperature controller for greater accuracy and ease of use by the consumer. The bright LED display shows at a glance the time remaining in the smoke-cook cycle, and the oven temperature. It's no more difficult to smoke excellent barbecue than it is to cook a roast in a conventional oven.
The digital controller is standard equipment in the Essential Series. Elite Series models include a meat temperature probe with the controller, which completely eliminates guesswork from smoke-cooking. Meats from prime rib to pulled pork are cooked to perfection.
Both Essential and Elite models are built with 14"x18" shelves which contain full slabs of ribs and whole briskets, making loading the smoker a breeze.
Cookshack anticipates that these features will make smoke-cooking more accessible to consumers who have been reluctant to become "backyard bbq'ers" because of lack of knowledge of the smoking process. The electronic controller eliminates the need for familiarity with the variables in smoke-cooking.
A variety of capacities and cabinet materials configurations give the consumer choices for their smoking needs.
Contact: Sean Pruitt, Marketing Manager
1-800-423-0698
2304 North Ash Street
Ponca City, OK 74601
Cookshack Smokers for Home Use
Cookshack Barbecue Equipment
Cookshack manufactures smoker ovens for commercial, home, and competition use under the brand names of Cookshack and Fast Eddy's by Cookshack. Cookshack has an industry-wide reputation for its high quality products and exceptional customer service. The company has been in business for over 45 years and ships its products worldwide. Commercial equipment is NSF approved and UL listed; most stainless steel models are USDA approved. Smokers are made in the USA. Cookshack is privately held and is located in Oklahoma.
# # #