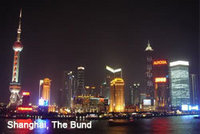 Alahambra, CA (PRWEB) January 8, 2009
Sharing wonderful experiences, beautiful sights and unforgettable memories is one of the goals of every passionate traveler. Online communities, a fixture in almost all websites nowadays, is the perfect outlet for all enthusiastic wanderlusts to enlighten fellow devoted sightseers of the beauty of traveling and exploring different cultures.
Ushering a new feature in its website, Ritz Tours launches an interactive forum featuring detailed and helpful information on China tours' major city destinations. Providing tourists scenic spots, local food specialties, bars, major nightlife destinations and even special events, the recently introduced China tour travel forum is the perfect online community to go to. Members who sign up can create their own topics, upload photos and participate in lively discussions about major China tour spots such as Beijing, Shanghai, Xian, Guilin, and most especially, Hongkong.
The China tour and Asia vacation travel agency expert does not stop there. All is not lost for those who missed the early stage of the Early Booking Discount promo. Making its way to 2009 is the second stage where travelers can avail of big price reductions on major exciting tours. Taking off as much as $150 on ticket prices, Ritz Tours offers adventurers to escape the economic problems even for just a while, allowing tourists to enjoy the breathtaking scenic spots of Asian countries, as well as witnessing distinct culture and traditions first hand most especially for those participating in China tours.
From December 16, 2008 to February 27, 2009, all avid travelers have the perfect opportunity to witness exciting China travel tours only Ritz Tours can provide. The travel industry leader for premium and quality China tour and Asia tour knows absolutely well that happiness should never cost a lost. Book now to enjoy a truly remarkable vacation and make that memory of a lifetime.
About Ritz Tours:
Ritz Tours is an industry leader in providing the most memorable China tour and other Asia tours at the best prices. A member of highly respected and recognized travel associations, Ritz Tours is a proud member of the U.S Tour Operators Association (USTOA), Pacific Asia Travel Association (PATA), American Society of Travel Agents (ASTA) as well as the International Airlines Travel Agents Network (IATAN).
###