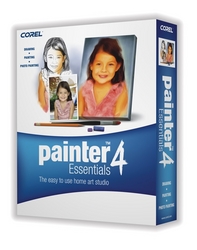 Whether you're a traditional or digital scrapbooker, the focus of your work is always the same - it's all about your photos
Ottawa, ON (PRWEB) January 8, 2009
Ottawa, ON - January 8, 2009 -- Corel Corporation (NASDAQ: CREL; TSX: CRE) today announced that Robert MacDonald, Product Manager for Corel® Painter™ and Corel® Painter™ Essentials, will lead a session on hybrid scrapbooking at the Craft & Hobbyist Association (CHA) Winter 2009 Convention and Trade Show, in Anaheim, CA. The session, entitled The Best of Both Worlds: A Step-by-Step Guide to Introduce Hybrid Scrapbooking in Your Store, will take place on Monday January 26, 2009 at 12 p.m. in Room 205AB of the Anaheim Convention Center in Anaheim, CA.
As digital memory keeping becomes more prevalent, scrapbooking retailers are seeking creative solutions that will appeal to both traditional and digital scrapbook customers. Corel's CHA session will provide retailers with creative, constructive examples of how they can effectively combine elements of traditional and digital scrapbooking to provide more creative opportunities to their customers and grow their businesses.
"Whether you're a traditional or digital scrapbooker, the focus of your work is always the same - it's all about your photos," explained Robert MacDonald, Product Manager for Corel Painter Essentials. "We've seen some amazing examples of what scrapbooking enthusiasts have been able to achieve with Painter Essentials - whether they are working with traditional materials or in the digital realm. Scrapbookers of all ages and skill levels routinely use Painter Essentials to easily incorporate unique, hand-painted images into their projects, making their scrapbooks that much more personal. "This show provides us with an excellent opportunity to meet with scrapbook retailers and share best practices for integrating digital scrapbooking into their range of offerings."
Based on Corel Painter, the world's most powerful Natural-Media® painting and illustration software, Corel Painter Essentials includes everything new users need to set up their own home art studio. Featuring a wide selection of paint brushes, pencils, paper textures and built-in tutorials, Painter Essentials 4 is the perfect program to help users get started with digital art and create stunning paintings - either from existing photos or from scratch.
For more information on Corel Painter Essentials or to download a fully-functional trial version, please visit http://www.corel.com/painteressentials. For more information about CHA Winter 2009, visit http://www.chashow.org.
About Corel:
Corel is one of the world's top software companies with more than 100 million active users in over 75 countries. We develop software that helps people express their ideas and share their stories in more exciting, creative and persuasive ways. Through the years we've built a reputation for delivering innovative, trusted products that are easy to learn and use, helping people achieve new levels of productivity. The industry has responded with hundreds of awards for software innovation, design and value.
Our award-winning product portfolio includes some of the world's most widely recognized and popular software brands, including CorelDRAW® Graphics Suite, Corel® Painter™, Corel DESIGNER® Technical Suite, Corel® Paint Shop Pro® Photo, VideoStudio®, WinDVD®, Corel® WordPerfect® Office and WinZip®. Our global headquarters are in Ottawa, Canada, with major offices in the United States, United Kingdom, Germany, China, Taiwan and Japan.
© 2009 Corel Corporation. All rights reserved. Corel, CorelDRAW, Corel DESIGNER, Corel Paint Shop Pro, Painter, VideoStudio, WinDVD, WinZip, WordPerfect, and the Corel logo are trademarks or registered trademarks of Corel Corporation and/or its subsidiaries. All other product names and any registered and unregistered trademarks mentioned are used for identification purposes only and remain the exclusive property of their respective owners.
###