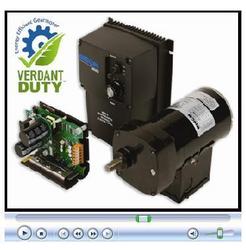 St. Charles, IL (PRWEB) January 9, 2009
Bison Gear & Engineering Corp. is utilizing the Internet to let prospective customers see and hear about the details of its newest line of energy efficient, three-phase AC gearmotors. The two minute video, which can be viewed at the Bison Gear web site, showcases Bison's new 107 series Verdant Duty™ AC gearmotors.
"We began experimenting with video about a year ago posting a few of our 3D gearmotor animations on YouTube, and not really thinking that such engineering-related content would create much interest," said John Morehead, Bison Gear Vice President, Strategic Planning & Marketing. "We were totally surprised to find they're incredibly popular. One of our animations of a parallel shaft PMDC gearmotor has been viewed over 33,000 times. We now have eight videos on the Bison YouTube Channel, ranging from gearmotor animations to our company history and anniversary video, with many more to come."
Rated at 1/20 horsepower (37.3 watt) at 230 volt, 60 Hz, 3-phase, Bison's Verdant Duty™ gearmotors feature an operating range from 6 to 90 Hz to provide a 15:1 range of adjustable output speeds in applications requiring no maintenance.
Available in 5 standard off-the-shelf models from Bison's distribution partners, the gearmotors feature totally enclosed, non-ventilated (TENV) AC motors constructed with special insulation systems to ensure long life when driven by compact, economic frequency inverters that convert conventional AC single phase to three phase power. Employing integral gear reducers with gear ratios from 6.7:1 to 95.5:1 they offer output speeds from 368 to 1.7 RPM with output torques up to 100 in-lbs. (11.3 N-m).
About Bison Gear & Engineering Corp.:
Founded in 1960, Bison Gear & Engineering Corp. designs and manufactures fractional horsepower electric motors, gearmotors and gear reducers used in industrial and commercial OEM applications worldwide. Bison's strong engineering tradition, based on Robusticity™ principles, offers products with up to twice as much torque in the same package size as competitors. Bison employs over 270 associates in its St. Charles, Illinois facility which produces gearmotors and reducers in parallel shaft and right angle configurations, as well as AC and DC electric motors, for applications where dependability and long lifetimes are important.
###