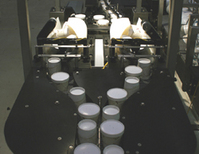 Glenwood, IL (PRWEB) January 12, 2009
Morrison Container Handling Solutions, a leader in the manufacturing of timing screws and change parts, unveils a NEW container collating machine which uses exclusive technology to collate containers one up, one down, back to front, in an alternating pattern resulting in a tight package. Morrison's new collating system, uses single lane in, double lane discharge in a compact design.
Designed by Morrison's skilled engineering team, this new machine uses less packaging material and produces packages that fit in a much more compact space. With a smaller physical and environmental footprint for containers packaged with this system, the savings in materials and space leads to cost reductions, less waste, and greater production efficiencies.
"Since 1971, Morrison's team of packaging experts has provided our customers with innovative solutions to the container handling challenges that continuously arise. Morrison's first and foremost goal is to provide our customers with the highly efficient products they need. With this latest machine, we can help our customers sustain environmental practices. Morrison provides a superior level of customer service that remains unsurpassed in the industry to this day," says Nick Wilson, president and founder of Morrison Container Handling Systems.
For 37 years, Morrison Container Handling Solutions (formerly Morrison Timing Screw Company) has been a recognized leader in the production of timing screws and change parts. Well-known for its ability to problem-solve quickly, Morison's departments of engineering and field service provide packaging solutions for national and international companies.
For more information, please contact:
Lois Hayworth
Morrison Container Handling Solutions,
335 West 194th Street, Glenwood, IL 60425
708.756.6660
Fax 708.756.6620.
http://www.morrison-chs.com
info (at) morrison-chs.com
# # #