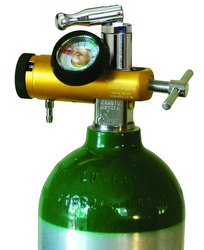 In these tough times, the MLC will help you save money and keep your quality standards high
Westlake, OH (PRWEB) January 13, 2009
Western announces the launch in the U.S. of the MLC, Mini Click Oxygen Regulator. "In these tough times, the MLC will help you save money and keep your quality standards high," announced Julia M. Fisher, Western Medical Product Manager.
"Hospitals and Homecare Providers can count on the MLC's safety features, ensuring years of reliable usage," says Ms. Fisher.
Product Benefits:

Securely clicks into flow settings
Internal safety relief valve
Sintered filter for additional safety and longer regulator life
Product Features:

Inlet connection: CGA-870
Maximum inlet pressure of 3000 psi
Part Number: MLC-108
(Flows: 0.5,1.0,1.5,2.0,2.5,3,4,5,6,7,8 LPM)

(Flows: 0.5,1.0,2.0,3,4,5,6,8,10,12,15 LPM)
MLC Mini Regulator is the durable and affordable choice for your continuous flow oxygen delivery process, visit the Westen Medica website at http://www.westernenterprises.com/medica/index.html, or call 1-800-783-7890.
-Available only in the U.S.
About Western:
Western, a Scott Fetzer Company, is a national manufacturer and distributor of high quality medical gas control technology. Western has been on the leading edge of quality and innovation for over 55 years - carrying on its tradition of excellence. For more information, visit Western at http://www.westernenterprises.com/medica/index.html .
Julia M. Fisher
Product Manager
###