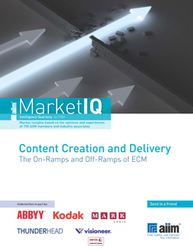 Silver Spring, MD (Vocus) January 14, 2009 -
Recent AIIM research found that 90% of organizations are using the PDF file format for long-term storage of scanned documents, and 89% are converting Office files to PDF for distribution and archive. Not surprisingly, paper is currently used by 100% of organizations, but when asked to predict the situation in 5 years time, use of paper for long-term storage dropped to 77%, whereas PDF rose to 93%.
The new AIIM Market IQ report: "Content Creation and Delivery - The On-Ramps and Off-Ramps of ECM" is available for free download at http://www.aiim.org/capture
Time-honored storage on microfilm or fiche is still used by 43% of organizations, but this is expected to drop to 28% over the next five years. At the other end of the media spectrum, 34% of organizations are archiving digital video, rising to a projected 47% in 5 years. Digital audio archiving will rise from 30% to 37%.
According to Betsy Fanning, Director of Standards at AIIM, the rapid acceptance of the PDF standard is partly due to the development of PDF/A as a dedicated archive format. PDF/A files need to be entirely self-contained, with no links to external fonts or hyperlinks. For scanned images, PDF provides a wrapper for a number of alternative compressed formats. "PDF/A became an ISO standard in 2005, and we have seen a further boost this past year with the release of PDF itself as an open ISO standard," says Fanning. "PDF/A is a good option for archiving electronic documents and is far better than archiving native files from any specific application."
For organizations looking to learn more about long-term records storage, AIIM offers its AIIM ERM Certificate training program. This program covers many specific aspects of electronic records management including Retention schedule and disposition, digital preservation techniques, legislation, standards and regulations. AIIM also offers classroom courses on PDF/A specifically. Details can be found at http://www.aiim.org/training.
The AIIM Market IQ report: "Content Creation and Delivery - The On-Ramps and Off-Ramps of ECM" can be downloaded at http://www.aiim.org/capture and was supported by ABBYY, Kodak, Mark Logic, Thunderhead, and Visioneer.
About AIIM
AIIM (http://www.aiim.org) is the community that provides education, research, and best practices to help organizations find, control, and optimize their information.
For over 60 years, AIIM has been the leading non-profit organization focused on helping users to understand the challenges associated with managing documents, content, records, and business processes. Today, AIIM is international in scope, independent, implementation-focused, and, as the representative of the entire enterprise content management (ECM) industry - including users, suppliers, and the channel - acts as the industry's intermediary.
AIIM was founded in 1943 as the National Microfilm Association and later became the Association for Information and Image Management. AIIM is also known as the Enterprise Content Management Association.
Subscribe to AIIM RSS feeds at http://www.aiim.org/feeds
Subscribe to industry press release feeds at http://www.aiim.org/ResourceCenter/RSSFeed.aspx?Type=PRESSRELEASES
For more information, contact:
Beth Mayhew
Director, Marketing
301.755.2681
bmayhew(at)aiim.org
Doug Miles
Director, Market Intelligence
+44.1905.727600
dmiles(at)aiim.org
###