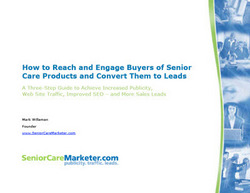 Strategy, Messaging and the Search-Optimized Marketing Website
Capitola, Calif. (PRWEB) January 14, 2009
The senior care marketplace is booming, and so is the demand for products and services relating to the care of older Americans. In response, SeniorCareMarketer.com has released a new eBook designed to help suppliers reach buyers and stand apart from the competition.
The complimentary eBook—titled How to Reach and Engage Buyers of Senior Care Products and Convert Them to Leads—is authored by Mark Willaman, founder of Fisher Vista, LLC, and SeniorCareMarketer.com. Willaman draws from nearly 20 years of expertise to help readers achieve increased publicity, web site traffic, improved SEO and greater sales leads.
The heart of the eBook is Willaman's "Marketing PR Lead-Gen Process(sm)," a three-step process based on traditional and Web 2.0 principles focusing on infrastructure, content and promotion.
"Increasing numbers of companies are entering the senior care market, ranging from medical supply firms to home care services," said Willaman. "Yet many senior care suppliers are unprepared for the competition they will soon face. The challenge is to deliver a targeted message to each potential purchasing influencer without breaking the bank."
Chapters focus on the following topics: "Strategy, Messaging and the Search-Optimized Marketing Website," "Promotion," "Integration with Other Marketing Activities" and "Content. Content. Content." Webinars, blogs, advertising, social networking and events are also covered, and the eBook concludes with a sample six-month marketing plan.
Two key challenges are identified:

The need to reach purchasing influencers such as family caregivers, medical doctors, nurses, homecare agencies, hospitals, geriatric care managers, pharmacists, assisted living facilities, social service agencies, physical therapists, financial planners and even seniors themselves.
Standing out in an increasingly-crowded marketplace. Willaman noted that many vendors view marketing as a luxury, and pay for sporadic marketing campaigns only when they have a few extra dollars in their budget.
"Many locally-owned companies who once enjoyed a near monopoly in their area are waking up to find competition, often from companies or franchises based out of state with significant marketing budgets," he added. "Suddenly, what worked yesterday no longer works as effectively and the little things like a quality web site begin to make a big difference."
The complimentary eBook is available for download at: http://www.seniorcaremarketer.com/downloads.htm
About Fisher Vista, LLC
Fisher Vista, LLC is a marketing and information services firm focusing on the senior care and human capital industries. The company's flagship product is HRmarketer.com, the No. 1 online marketing and PR service in the human resources industry, and Senior Care Marketer (http://www.SeniorCareMarketer.com). Both help service providers get noticed and get sales leads through increased publicity, website traffic and improved search engine rankings.
This press release was distributed through eMediawire by Human Resources Marketer (HR Marketer: http://www.HRmarketer.com) on behalf of the company listed above.
###