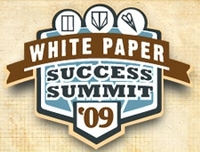 White papers are never about the clever, they're all about the clear
San Diego, CA (PRWEB) January 15, 2009
Yesterday's nerdy paper becomes today's top in-demand marketing weapon.
The white paper. What began as a wordy, complicated, techie document has become the cool, neat catalyst for generating insatiable demand, and freelance writers are cashing in with corporate content in 2009. And when a Google search for "white papers" returns millions of results… that means somebody's got to write them.
Now more than ever, it's predictable that companies will need to carefully scrutinize more information before making buying decisions, and freelance wordsmiths can expect more demand for their sought-after skill.
Today's white paper is a conversational 3,000- to 5,000-word document, with a succinct educational focus on how clients can solve specific problems--served up with a pinch of persuasiveness.
"White papers are today's marketing super weapons," says Michael Stelzner, author of the best-selling book Writing White Papers. Stelzner cites a number of reasons why clients love marketing white papers:

White papers are the most consumed form of marketing: 71% of buyers say they read white papers more than case studies, product literature, articles from industry journals, analyst reports, company websites, webcasts, blogs, online video and podcasts, according to KnowledgeStorm and MarketingSherpa.
White papers are highly viral marketing tools: The same report reveals that nearly 3 in 5 business professionals (57%) pass white papers along to colleagues and coworkers, more so than any other marketing tool.
White papers are a top source for lead generation: 74% of professional services companies rank white papers as an excellent source of lead generation, found a RainToday study.
The need for credibility has made white papers more powerful than traditional product marketing. And when one company offers a downloadable white paper, the competition wants one, too.
This is why freelance writers with the right white paper writing technique are in such high demand in this down economy--and why they can expect to make an executive income writing white papers for their clients.
"Writing white papers is one of the few assignments that pays big fees for writing honest, straightforward, content-rich copy. Most of the other paying assignments involve writing consumer direct response copy and require a high degree of hype," says Bob Bly, author of 70 writing books and the freelancer McGraw-Hill calls "America's top copywriter."
Just how high a fee? Presenters at next month's upcoming White Paper Success Summit 2009 have made fees of $5,000--or more--per white paper.
"White papers are never about the clever, they're all about the clear," Stelzner says. "Writers who know how to write clearly always make the most money--no matter what the economy is doing."
Michael Stelzner, Bob Bly, Roger C. Parker, Steve Slaunwhite, Peter Bowerman and other white paper gurus will be teaching freelancers to write and market themselves as white paper experts at the first-ever online summit for white papers, White Paper Success Summit 2009.
For more information or to get in on the 40% off Early Bird Special that ends at midnight on Thursday, January 22, go here now: http://www.whitepapersummit.com/early/ Don't miss out on the free class download, "Making Your White Paper Stand Out From the Crowd: Best Practices for Creating White Papers," just for stopping by.
###