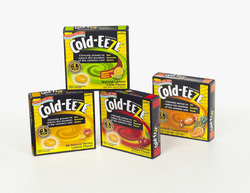 While the symptoms of the common cold virus are irritating and even debilitating at times, antibiotics are completely ineffective against this virus
Doylestown, PA (PRWEB) January 15, 2009
Cold season is here, and people have started asking themselves not if they will catch a cold, but when. That dreaded feeling of being run down with a sore throat, runny nose, cough and even fever doesn't have to get the best of us, if we take some simple measures and a simple substance - zinc.
"While the symptoms of the common cold virus are irritating and even debilitating at times, antibiotics are completely ineffective against this virus," says Suzy Cohen, R.Ph., noted pharmacist and author of The 24-Hour Pharmacist (HarperCollins, 2007). "The key to dealing with the common cold is to minimize the symptoms to make them as tolerable as possible, while the virus works its way out of the system as quickly as possible."
At the first sign of a cold, Cohen suggests reaching for zinc lozenges. "I recommend naturally controlling symptoms by getting a good night's sleep, eating lightly and taking Cold-EEZE cold remedy lozenges immediately because they are a tasty way to get zinc into your body. You need zinc to boost immune function and help you fight the virus."
Zinc has been shown to reduce the duration and severity of a cold by boosting immune function to fight the virus. "Cold-EEZE lozenges contain the clinically proven dosage of zinc that dissolves in the mouth for quick absorption by the body and have been proven to shorten the duration and severity of cold symptoms by 42 percent, which translates to reducing the duration of a cold by three or four days," explains Cohen.
To learn more about Cold-EEZE zinc lozenges, visit http://www.coldeeze.com, and for information on colds and boosting your immunity or to see if your city has made the weekly Cold-EEZE Cold-CAST, visit http://www.coldfight360.com.
###