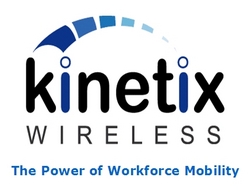 MBLink-MDM provides a feature rich meter deployment management system, which also facilitates integration of third party field services providers with the utility's own people, business processes and back-office information systems
Vancouver, Canada (PRWEB) January 19, 2009
Kinetix Wireless Inc. is pleased to announce the launch of its new Version 2.0 MBLink-MDM software solution for managing large scale meter deployment projects. The new software solution is designed using meter deployment best practices and addresses many of the issues typically encountered by organizations when trying to manage the potentially overwhelming scale and scope of a large smart meter deployment initiative.
Experience has shown only too often that, when planning large smart meter deployments in the hundreds of thousands or even millions of meters, utilities tend to seriously underestimate the impact of the physical deployment on their systems, their business processes and their people. Much of the initial planning is focused on testing and selecting the appropriate meter type and in designing the wireless infrastructure that the smart meters will use to transmit energy consumption data back to the utilities billing system.
"Most utilities anticipate using third party contractors to physically deploy their smart meters to residential and commercial premises thus making it essentially someone else's problem. In doing so, they can easily fail to anticipate that their standard meter tracking system, which works well for small deployments such as routine meter replacement programs, is far too cumbersome or won't scale to handle the many hundreds or even thousands of meters that will be deployed in a single day," according to Pierre Vorster, President of Kinetix Wireless Inc. "MBLink-MDM provides a feature rich meter deployment management system, which also facilitates integration of third party field services providers with the utility's own people, business processes and back-office information systems," he adds.
Older work management systems and disjointed business processes, which offer little or no integration, further compound what rapidly becomes a very difficult situation. The usual result is lots of rework and excess travel for field personnel, overload for inventory management and logistics personnel, stress for management and frustration for customers.
"MBLink-MDM is based on the hard lessons we and our customers have jointly learned about large scale meter deployment. We've worked hard to provide advanced features like optimized street level routing, high levels of data security and the flexibility required to support ever changing business processes. These are the key features our customers insist are mandatory for a superior meter deployment management system," states Erik Bjerkelund, Chief Technology Officer.
For additional information, please contact Dale Pace or visit the website at:
http://www.kinetix-wireless.com
About Kinetix Wireless Inc:
Kinetix Wireless Inc., based in Vancouver, Canada, is dedicated to the development and delivery of mobile and wireless business applications that enable field workforce mobility for electric, gas and water utilities, cooperatives and municipalities.
###