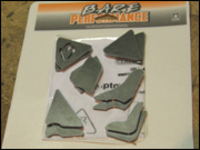 Merrimack, NH (PRWEB) January 20, 2009
The following is an independent review provided by BlueTraxx.com for Bare Performance ATV gusset kits. Gusset kits provide frame reinforcement for racers and rough rides, protecting costly down time and breakages to the frame.
"If you're one of those types that like to ride your quad hard and put it away wet, then you'll probably want to take a closer look at this nifty little frame gusset kit from Bare Performance. It provides you with steel supports that you weld in to all of the vulnerable weak points in your chassis to prevent broken frames. Since we were in the process of stripping down our 660R Raptor anyway, we figured...why not!?"
"After receiving the kit, it was obvious that they took pride in the craftsmanship of their product. Twelve total gussets are provided in the kit, and all are meticulously cut with smooth edges. The Bare Performance logo is cut into two of the gussets, which we think is pretty cool looking! The instructions provided were very complete, and the pictures and diagrams left very little guesswork for placement of each support."
"The fitment of each gusset was very good, and they all fit well into their designated locations. We had very little customizing to do at all. We were a little confused on which position to install the rear gusset however, but after a short discussion and some brainstorming we decided to install it in a horizontal position, which turned out to work well. All of the weak spots in the frame, even some we weren't aware of, are covered in the kit."
"So if you're a racer or are just generally hard on your equipment and want the peace of mind and insurance this kit supplies, you should definitely consider picking one up. They're fairly easy to install and the $84.95 price tag is decent. Bare Performance makes it easy for you and supplies everything you need in one kit. They are available for the Raptor 660R, YFZ450, and several other models from different manufacturers. To place an order or check out all the other great products and services they have to offer, visit their website. You can also call them at 866-286-9978 or fax 765-273-4461."
Quality: 5/5
Performance: 5/5
Installation: 4/5
Value: 3/5
Overall: 4/5
Bare Performance supplies gusset kits for the following ATV models: Honda 250 R, Honda TRX 400 EX, Honda TRX 450 R, Kawasaki KFX 400, Suzuki LTZ 400, Suzuki LT R 450, Yamaha YFZ 450, Yamaha Raptor 660 R
Bare Performance also carries thousands of aftermarket parts for ATV/UTV.
Distributors and Dealers welcome.
###