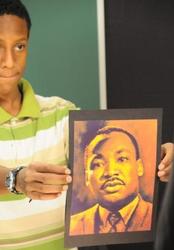 You all serve as a beacon to the rest of the world
Alexandria, VA (PRWEB) January 20, 2009
On Martin Luther king, Jr. Day, an inspirational new song reminds us of the dream, and aims to inspire kids to "wake up now".
At this time in history, when the first African American ever is to be sworn in as US president, it is easy to see how a young man born 2 continents away from where Dr. King dreamed, can feel inspired to capture some essence of that dream, and put it into a song (which can be found at http://SongsFromAbove.com).
"Dr. King you remind me / that there's love for the world / I have seen you were fighting / so that all could be heard."
These are the lyrics to the chorus of "You Remind Me", a new song which celebrates Dr. King's dream, and inspires kids. The song tells of a young man leaving Mississippi to go to New York city, to pursue a dream. He then makes a stop "at the Memorial in DC, where Dr. King dreamed for him and he thinks".
"To be sure the song was guaranteed success", says Cameroonian-born singer/songwriter Nkeng, who intends to use profits from the song to build school programs around the world, "I decided to leverage the energy of the universe". As such, "You Remind Me" was put together on landmark days, over the past few years.
"We worked on the string and piano arrangements on election day 2008. I wanted to capture the energy of the country - and the energy of what I felt was Dr. King's dream coming to life in a most defining way", Nkeng says.
So to "leverage the energy of the universe" as Nkeng puts it, they recorded the song on:

Aug 28th 2008 (the 45th anniversary of The March on Washington, and the day President Barack Obama was nominated to be the Democratic candidate for the presidency) - doing drums, guitar and vocals
election day, Tuesday, Nov 4th 2008 (string and piano arrangements), and on Martin Luther King, Jr. Day, Monday, 19 January 2009, they officially released the song and music video.
The song itself had been written on the weekends of the Martin Luther King, Jr. Day holiday in 2002, and 2003. "This I did not decide, however," states Nkeng. "I just picked up my guitar on those weekends for whatever reason, and the song came to me."
Having worked with youth in several capacities, Nkeng says he always sees a very important need for songs like these, which are fun and entertaining, yet carry a positive message.
The idea to use "You Remind Me" to invest in school programs came while promoting a demo version of the song at NAMM 2004 in Anaheim, California. It began with a chance encounter with Deb Bradway (then director of GearUp [Music In Schools Today (MUST)], San Francisco). She listened to the song all the way through, on headphones and a portable CD player Nkeng had brought with him.
When she kept thinking of the song after she got back to the kids in the programs she directed, Ms. Bradway invited Nkeng to use "You Remind Me" as a social awareness tool - to inspire 8th Graders, and youth in a corrections facility in the area. The kids were moved, and "Several lives," Nkeng says, "I am certain, were re-directed towards usefulness."
Then in 2007, when Nkeng coordinated Support On Suspension, a program which supports and mentors kids while they're on suspension from school, he was even more re-affirmed that he had to do something big with his song, to really help kids. When the program and others received a Fairfax County Partnership For Youth Spark Award (http://www.sungazette.net/partnership/index.html) and were honored - "You all serve as a beacon to the rest of the world," - by keynote speaker Alma Powell (Collin Powell's wife), chairman of America's Promise Alliance, Nkeng says "That was it. I knew what I had to do."
Visit http://www.SongsFromAbove.com, to listen to the song "You Remind Me" and watch the music video.
About Songs From Above's Nkeng:
Because his name is difficult for some, Nkeng uses Songs From Above to name his work as a singer/songwriter.
He writes, produces, and performs non-religious songs in mainstream folk/adult contemporary, pop/world.
Nkeng's appeared on MTVs, BET, MHz (in videos with Mello-D & The Rados) and on CRTV (Cameroon national TV). His music has been featured in TV shows (America's Hot Musician), Documentaries (Kenya Stories by BBC Award director/producer Carol Pineau); and he's recorded for several music organizations (The Russian Chamber Art Society, The Washington Chu Shan Chinese Opera).
"Hello", his new album will be released on 09-09-09.
To listen to samples, visit http://www.SongsFromAbove.com
Nkeng plans to use his career to build school programs around the world.
Contact:
Susan McRailey, PR coordinator, Songs From Above
703-786-6171
http://www.SongsFromAbove.com
###