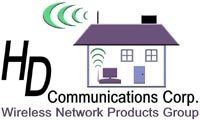 I like to tell our customers that we are a wireless distributor with benefits
Ronkonkoma, NY (PRWEB) January 21, 2009
HD Communications Corp., a company with wireless experience dating back to 1976, has introduced the HD26172, a complete outdoor wireless network bridge in the 802.11 B/G unlicensed 2.4GHz band that sells for only $159.98. The wireless bridge is being marketed to companies and individuals that have two locations in close proximity to each other. "Companies and individuals have connected their buildings wired networks together for years using technologies such as a T-1 connection, T-3 connection, broadband cable, fiber, and even DSL. That means companies and individuals have been paying twice for something they can be paying only once for," said Don Davis President and CEO of HD Communications Corp.
Bandwidth connections are expensive and companies pay for T-1 ( 1.5mbps ) and T-3 ( 45 mbps ) connections per location per month. These monthly bandwidth charges range from $200 to several thousand dollars a month per building or location. The HD26172 is stated to replace one of those connections and pay for itself in one month or less.
"It is a simple formula," said Davis. "If you have two or more buildings, require between 2 mbps to 20 mbps of bandwidth, and you have clear line of sight between the buildings, we have a low cost solution for you. The HD26172 is a secure wireless link that will connect the two locations that you pay for once instead of every month.
In addition when greater bandwidth is required the company also offers a solution to combine two or more wireless links to a single connection and match the 45mbps bandwidth of a T-3 and again still pay for itself in less than a month."
HD Communications Corp. is no stranger to selling wireless equipment and has done so since 1991, much longer than many of their competitors. "I like to tell our customers that we are a wireless distributor with benefits," added Davis. The founders and many employees come from wireless engineering backgrounds and are constantly looking to see how they can solve a customer's problem. "Many other companies look to see how they can market the products they have. We ask the market what it needs and then provide it."
When asked where this idea came from. Davis stated, "The idea started a few years back with companies looking for redundant links to use as a back up to their T-1 and T-3 wired connections. Then with the reliability of the wireless connections companies began asking why they needed to pay for the second wired connection and began eliminating them. We believe that with today's economy there must be many companies out there looking to do the same."
There is no question in today's economic times the market needs lower cost high quality products. HD Communications seems to be providing just those products and by eliminating a second telecom or broadband connection, they also are helping companies and individuals reduce their monthly bandwidth costs. HD Communications Corp also offers additional wireless bridges with bandwidths up to Ethernet speeds, but do not expect to get those for less than $200. Those wireless bridges are upwards of 14K and are designed for large corporations, healthcare, and government applications. However if you are paying $1,200 a month or more for a T-3 connection in each building, even those bridges look to be a cost savings after a 12 month period.
HD Communications Corp. sells wireless equipment to re-sellers and end users in more than 55 countries around the world. Customers include local, state and federal governments as well as many private concerns. Industries served are vast and include health care, hospitality, educational, small to large business, military, well monitoring, construction, public safety, farming and many others.
For more information on the wireless bridges available contact the company at : US Toll Free ( 888 ) 588-3800 Ext 123 all others ( 631 ) 588-3877 Ext 123.
###