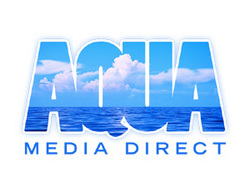 We chose to exhibit at the eComXpo because of their easily navigated virtual environment, and because they draw most of the online media industry's movers and shakers
Los Angeles, (PRWEB) January 21, 2009
Aqua Media Direct, Inc. announced today that the company will exhibit at the eComXpo, a free virtual conference and trade show for executive online marketers available online on January 28 and 29.
eComXpo features a combination of presentations, panel discussions, and exhibitors and focuses on a variety of topics including social media, e-commerce, search marketing, online display media, new customer acquisition, site analytics, and affiliate management.
The Aqua Media Direct booth at eComXpo is informative and captures the look and feel of the company's image, products and targeting features.
"We chose to exhibit at the eComXpo because of their easily navigated virtual environment, and because they draw most of the online media industry's movers and shakers," says Tom Doyle, Aqua Media Direct's CEO, adding that "registration for attendees is free, and available from any PC, making this conference hard to miss."
Aqua Media Direct is an online display media company that specializes in connecting advertisers with their target audiences worldwide. The company has a trio of media products and sophisticated targeting options that provide granular execution on the basis of consumer interest or content specifics.
The company's Media Products are True Site Representation, which features major sites and custom placements; Aqua Premium, a collection of transparent sites organized by channels; and Aqua Performance, having 1,000's of sites and where the adserver targets users.
Aqua Media Direct has introduced a new transparent channel for its Aqua Premium product each month since September of 2008 including Teens, Travel, Women, Men and Auto.
Aqua Media Direct is based in Los Angeles with offices in San Francisco, Santa Barbara, New York, New Jersey, and Dallas, Texas. Tom Doyle can be reached at 818-649-7740.
eComXpo is 100% virtual and registration is free. For additional information on eComXpo, please visit http://www.ecomxpo.com
###