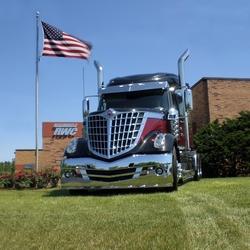 In many cases we've been able to save our clients time and money, as well as providing them with new innovations that help them remain competitive in their specific Markets. Many of the current projects include components that the customer was considering making themselves, and found it dramatically more cost-effective for us to produce them in our facility
Gurnee, Illinois (Vocus) January 20, 2009
Northern Illinois auto and truck accessory manufacturer, Real Wheels Corporation (RWC) has been creating vehicle enhancement products in the Chicago area for nearly 30 years. So, many would assume that they, like others in the auto industry, are struggling just to survive, let alone grow their business.
"We've been very fortunate," explains RWC Vice President of Sales, Jhan R. Dolphin. "Early last year we began promoting a part of our business that has always existed, but had never been shared with some of our valued clients that we've worked with for years. Our I.D.E.A. (Innovative Design & Engineering Applications) division is now one of the fastest growing segments of our organization."
Always innovative, RWC (http://www.realwheels.com) holds numerous US Patents for their product designs. During the past few years, they have also been recognized for some of their award winning, customized, promotional vehicle projects, like the Mindfreak Hummer for Illusionist Criss Angel's A&E television series, and their current project with legendary rock band Cheap Trick. "These project vehicles have really put us on the map," says Dolphin. "Each of them has received so much media exposure that customers from all segments of our business have seen and enjoyed them. They understand that if our team can create such bizarre, high quality, examples of automotive innovation, we can surely assist them with their own creative product designs and the development of new ideas." The RWC team is now developing billet aluminum door handle and 3D graphic designs for the fire industry, enhancement products for the commercial truck market, and even vehicle products for the entertainment business.
The RWC team initially built their business with their U.S.-made wheel accessories in the commercial truck market. This market also included luxury RV, Emergency vehicle, Tow truck, Big Rig and other large vehicle platforms. In 2003, they quickly expanded into billet aluminum and stainless steel enhancements for luxury SUVs like the Hummer brand, and then continued with additional specialty vehicles like the Toyota FJ, Jeep Wrangler, and even the eco-friendly Smart car. Today, they also produce many parts that are installed right on the vehicle's assembly floor at the OEM level.
"In many cases we've been able to save our clients time and money, as well as providing them with new innovations that help them remain competitive in their specific Markets. Many of the current projects include components that the customer was considering making themselves, and found it dramatically more cost-effective for us to produce them in our facility," adds Dolphin. "We enjoy getting together with our clients for the initial brainstorming session. A few thumbnail sketches later, and the magic starts to happen."
It is no secret that during a challenging economy, it is crucial to be innovative and creative to remain competitive. For this auto accessories manufacturer, assisting customers with innovation is an IDEA that is working for everyone.
RealWheels Corporation has been designing and producing accessories for the commercial truck, light truck, SUV and car market for over thirty years. For more information on the I.D.E.A. and other RealWheels products, visit http://www.realwheels.com.
Media Contact:
Jhan R. Dolphin
Vice President Mktg.
RealWheels Corporation (RWC)
(800) 982-1180
(847) 910-2248 cell
# # #