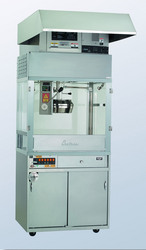 Chicago, IL (PRWEB) January 21, 2009
C. Cretors and Company, a leading designer and manufacturer of food processing and concession equipment for over 120 years, offers the Diplomat, its large concession series of suspended kettle popcorn machines - with the "Ventless Recirculating Hood System". These features maximize safety, lower installation costs, and eliminate the need for expensive fixed duct work to vent exhaust to the outside. Through an exclusive partnership with Giles Foodservice Equipment, Cretors is now able provide the industry's only popcorn machine to have been approved by Underwriters Laboratories through testing in the rigorous KNKG Category, making it one of the most reliable and safe popcorn machines available.
Using EPA Test Method 202, in accordance with UL710B and the recommendations of the National Fire Protection Association Standard for Ventilation Control and Fire Protection of Commercial Cooking Operations (NFPA 96), the Diplomat limits the emission of grease-laden air to the room. The Diplomat is also available with the ANSUL Fire Suppression system for added safety. The Ventless Hood Diplomat, available in 3ft., 4ft., 5ft. and 6ft. cabinet sizes, is a dependable and safe popcorn machine and the only popper in the industry that Underwriters Laboratories has tested and Listed in all the following categories: KNGT, KNLZ, and KNKG.
The Diplomat's "Ventless Recirculating Hood System" expands popping capabilities into areas with limited space. Available with Cretors' 20 oz., 32 oz., 48 oz. and 60 oz. kettles,, the Ventless Hood allows for easy installation or relocation of popping stations during remodeling since no fixed duct work is necessary. The Ventless Hood also provides additional space for custom merchandising.
About C. Cretors and Company:
Established in 1885, C. Cretors and Company is a leading designer and manufacturer of food processing and concession equipment providing a complete range of innovative food service solutions to companies around the world. Cretors is a renowned industry innovator, who in 1893 introduced the first patented steam driven popcorn machine that popped corn in oil. In 1967, Cretors' Food Processing Division introduced a patented continuous production line featuring a hot air fluidized bed oven for high-volume popcorn production, ranging from 80 to 5,000 lbs. per hour.
Over the company's long and storied history, its Foodservice Division offerings have expanded to include machines that produce and/or dispense cotton candy, nachos, caramel corn, and hot dogs, topping and dispensing equipment as well as warming and display cabinets. Today, Cretors continues to reinvest in research and development to ensure constant improvements in everything from equipment manufacture to customer responsiveness to distributor network communications.
For more information about Cretors' services and products, please visit http://www.cretors.com.
###