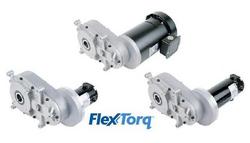 With over 1800 in-lbs (204 N-M) of output torque, these new FlexTorq™ gearmotors are a solid value and a more energy efficient alternative to large, expensive right angle worm drives
St. Charles, IL (PRWEB) January 21, 2009
Designed to fit into high torque, tight space applications, and featuring either a 1.25" (31.75 mm) I.D. hollow shaft or a 1.25" diameter solid shaft in the u-shaped or s-shaped configuration, Bison Gear & Engineering Corp. introduces its new FlexTorq™ 762 series hollow shaft offset DC gearmotors. Driven by 1/20, 1/4 or 1/2 HP (37, 186 or 373 Watt) permanent magnet 90 volt DC variable speed motors, the FlexTorq™ 762 series is available in 9 standard off-the shelf models from Bison Gear and its distribution partners.
"With over 1800 in-lbs (204 N-M) of output torque, these new FlexTorq™ gearmotors are a solid value and a more energy efficient alternative to large, expensive right angle worm drives," said Todd Lucich, Bison Gear vice president, sales. "This is a robust, flexible design that's ideal for conveyors, gate operators, machine tools, and foodservice equipment."
Fixed output speeds on the standard FlexTorq™ units range from 1.2 to 65 RPM and Bison can provide matched variable speed drives for the PMDC gearmotors. As part of its Robusticity™ design philosphy, Bison's pinion gears are integral to the motor shaft. Carbide cutting tools are used to hob the pinion teeth on automated hobbers. The pinions are then heat treated in a carbonitriding process that offers a hardened, wear resistant surface. Bearing and gear life are maximized with oil bath lubrication, rather than grease.
The FlexTorq™ gearmotors are manufactured in Bison Gear's suburban Chicago facility to Bison's high quality standards in order to ensure a short supply chain and reliable, long-life operation. In addition, Bison's Innopreneurial™ application and design engineering capabilities to customize standard models to meet specific OEM needs are readily available.
About Bison Gear & Engineering Corp.
Founded in 1960, Bison Gear & Engineering Corp. designs and manufactures fractional horsepower electric motors, gearmotors and gear reducers used in industrial and commercial OEM applications worldwide. Bison's strong engineering tradition, based on Robusticity™ principles, offers products with up to twice as much torque in the same package size as competitors. Bison employs nearly 270 associates in its St. Charles, Illinois facility which produces gearmotors and reducers in parallel shaft and right angle configurations, as well as AC and DC electric motors, for applications where dependability and long lifetimes are important.
###