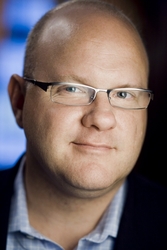 The research and tailoring that went into the program to personalize it to our firm was evident. It won over even our most cynical staff member by its targeted message
Chicago, IL (PRWEB) January 23, 2009
Business and management consultant Paul Trout announced the launch of a new consulting firm, Shift Worldwide. The firm, which helps organizations change unproductive attitudes into hope while effecting dramatic, sustainable results, began serving clients in October 2008. The Shift Worldwide Web site went live on Jan. 22, 2009.
Founder and CEO Paul Trout, 39, formerly a partner with Akina Corporation, established Shift Worldwide based on his desire to serve corporate clients and professional services companies as they adapt to a worldwide shift underway in business, technology and communications.
"Advances in communication and technology present the business community with a paradox: they have greater access to talent and new markets to expand their business, but are now faced with the reality that competitors are not just local or regional, they are global," said Trout. "Organizations may have strategies in place to deal with such shifts but the real question is: Can they implement? Our approach is to increase their odds of implementing their strategy by tackling hidden - and sometimes not so hidden - attitudes and behaviors while simultaneously instilling a sense of organizational hope."
Shift Worldwide provides customized research, team facilitation, training and coaching services to executives and their teams on an individual or group basis. It operates four businesses: Strategic Initiatives Consulting, International Business Consulting, Professional Services Business Development Training and Business Bed and Breakfast Leadership Retreats. Among its offerings are leadership team 360 feedback, qualitative market research, building buy-in group facilitation, ideation aspiration, initiative rollout communication training, organizational integration training, and leadership, political and communication coaching.
One of the firm's initial engagements was the development and delivery of a training program aimed at increasing employee accountability at Kohn Law Firm, a law and debt collection firm based in Milwaukee, Wisc. A wave of new business has helped Kohn grow substantially over the past several years, which has increased the number of employees, but has reduced the level of accountability from one department to another. Working with Kohn Law Firm, Shift Worldwide developed an innovative training module that involved the entire 100-person firm setting the stage for "raising the bar" within their firm in 2009. "The research and tailoring that went into the program to personalize it to our firm was evident. It won over even our most cynical staff member by its targeted message," said Brenda Majewski, administrator at Kohn Law Firm. "We are still feeling the buzz from this experience."
Additionally, Shift Worldwide helped the leaders of accounting firm RitzHolman CPAs in Milwaukee, Wisc. identify their own and one another's strengths and issues through a custom-designed 360 Leadership engagement. The custom feedback survey captured the subjective observations of each leader about their own and others' performances and combined it with an external assessment to eliminate any bias. Based on the results, the leadership team was able to acknowledge strengths and assign new roles in a one-day group meeting facilitated by Shift Worldwide. "This worked significantly better than I could have ever imagined," said Andrew C. Holman, CPA, partner at RitzHolman CPAs.
A former corporate executive and sales coach, Shift Worldwide founder Paul Trout has nearly two decades of experience in a host of environments including government, corporate, financial services, high tech, manufacturing and consulting. Most recently he was a partner at Chicago-based Akina Corporation, a firm offering coaching and mentoring-based sales training for attorneys and corporations. Trout has established an alliance partnership with Akina, and in addition to serving clients with its own custom-developed programs, Shift Worldwide now offers the full suite of Akina training.
Earlier in his career Trout was a consultant at IBM, where he was selected as one of 12 outstanding business consultants highlighted in a global marketing campaign entitled, "Who Do You Need?" Trout graduated with a bachelor's degree in Urban Studies and Planning from the University of California at San Diego and earned a Master's of Business Administration in Marketing and Information Systems from the Kelley School of Business at Indiana University.
Shift Worldwide is headquartered in Chicago and has consulting alliances on four additional continents, Asia, Australia, Europe and South America.
# # #