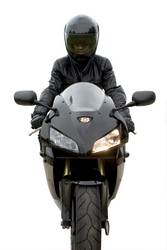 We recognise that good quality helmet and leathers are an essential part of a motorcyclist's safety kit
(Vocus) January 23, 2009
Nobody wants to fall off their motorbike but sadly most people will at some point in their biking careers, so they need to make sure they have good quality protective clothing. Modern motorcycle clothing offers impact and abrasion protection from the moment riders hit the road until they come to a stop. It can significantly reduce injuries and, as a rule of thumb, it is recommended that bikers should spend between 15 to 20% of the value of their bike on protective clothing.
But after an accident some, if not all the clothing will need replacing - especially the helmet if it has taken a knock. Helmets and leathers can now cost on average around £500 and many cost significantly more, so taking out insurance for these expensive accessories is very important. For just £20 per year Bikesure offers a Helmet and Leather policy that gives cover up to £1000 on all leathers, including jacket, trousers, boots and gloves, and helmets (subject to a £50 excess).
"We recognise that good quality helmet and leathers are an essential part of a motorcyclist's safety kit," says Robert Balls of Bikesure. "We want to make it affordable for bikers to ride safely. Our Helmet and Leather policy makes it possible for them to easily replace damaged kit after an accident."
Bikesure is 100% British owned and based. It has a huge range of specialist policies for the motorcycle enthusiast, including cheap bike insurance schemes for performance and custom bikes, scooters, trikes, quads and bug riders. For details freephone the Bikesure quote line on 0800 089 2000, email the company at bikesure(at)adrianflux.co.uk or visit http://www.bikesure.co.uk
Helmet and Leather safety.doc – Jan-09
Press Enquiries:
Toni Turner or Alison Haynes at The Publicity Works
Tel: 01263 761000 Email: bikesure(at)publicityworks.biz
Robert Balls at Bikesure Insurance Services: 08700 771377
Press information, digital files, photos etc., available on request from bikesure(at)publicityworks.biz
###