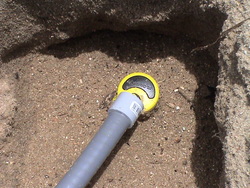 Greenest House in the World
Cleveland, OH (PRWEB) January 26, 2009
Promoted on FOX News as the "Greenest House in the World," Florida's Showcase Green Envirohome (FSGE™) has selected Flow Line Options EchoPod for its Greywater Reuse System. FSGE will soon be Florida's first residence to have a Graywater Reuse System installed for in-home use.
Nonnie Chrystal, project manager for FSGE, explained that EchoPod will be used for two different water applications. EchoPod has already been installed in the 5,000 gallon underground rainwater cistern and will also be installed in the homes 85 gallon greywater cistern.
EchoPod is an innovative level sensor that replaces floats, conductance and pressure sensors that fail due to dirty, sticking and scaling media in small tanks 49.2" (1.25m) or less. EchoPod, a general purpose sensor, combines non-contact switch, controller and transmitter capabilities in one multi-function sensor. Maintenance free, EchoPod reduces tank system hardware through simplicity and consolidation. It is also well suited for corrosive and dirty applications with its non-metallic housing and transducer.
"We chose Flow Line Options' EchoPod for a number of reasons," said Chrystal. She further explained that EchoPod was ideal for the project based on its great economic value, innovative capabilities, and its unique ability to detect level with only a 2 inch deadband. EchoPod will assist in the collection of data for University of Central Florida and Florida Department of Environmental Protections Bureau of Watershed Management. The data collected via EchoPod's 4-20mA analog output will be critical to determine the rainwater collected.
In addition, due to the home's high standards for water conservation and use of durable, sustainable products, FSGE is being considered by EPA WaterSense (the sister program to EPA Energy Star) as a national test site for water conservation.
About Flow Line Options
Incorporated in 1988, Flo-Corp (Flow Line Options Corp.) is an established manufacturer and retailer of flow and level instrumentation. Based near Cleveland, Flo-Corp serves its customers through high-quality, innovative, and affordable flow and level products, and professional calibration services. Flo-Corp offers a full-line of flow and level products, including flow meters, flow switches, batch flow control, level transmitters, and level control devices. For more information about Flo-Corp and its products please visit flowlineoptions.com.
NOTE: Florida's Showcase Green Envirohome (FSGE™) is expected to be completed in the summer of 2009.
###