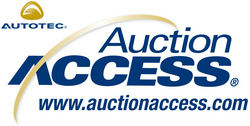 With the continued backing of the auction companies, we'll keep on rolling out new and better ways to serve our dealer community
New Orleans, LA (PRWEB) January 24, 2009
At the National Auto Dealer Association Convention & Expo today, Charles Redden, president of AutoTec, announced that auction companies will again pick up the annual membership fees for AuctionACCESS® membership on behalf of their customer dealers and reps. This membership fee covers the costs of developing, maintaining and enhancing AuctionACCESS for dealers through 2009.
More than 200 wholesale automotive auctions and online wholesale channels across North America use AuctionACCESS, including ADESA, America's Auto Auction, Auction Broadcasting Company, Brasher's, BSC America, Independent Auto Auctions, Manheim and ServNet.
"In this economy, our broad reach makes AuctionACCESS especially valuable for dealers," Redden says. "It allows you to find exactly the vehicles your customers want, preregister for auctions without a mess of paperwork and get into the lanes faster on auction day. And, on the flip side, you can maximize wholesale values by selling into a larger, more diverse marketplace."
"AuctionACCESS helps you run a leaner, more efficient operation and still get the inventory you need to maintain your business," Redden says.
One important productivity tool is myACCESSsm, the online AuctionACCESS account management system. With myACCESSsm, dealers can update their contact information, add and remove authorized representatives and use their stored data to register at new participating auctions quickly and easily. Having current information about authorized reps and dealer licenses is part of how AuctionACCESS is working to prevent fraud and block curbstoners.
"With the continued backing of the auction companies, we'll keep on rolling out new and better ways to serve our dealer community," Redden says. "Look for some exciting new benefits and productivity tools in 2009!"
COMPANY INFORMATION:
AuctionACCESS® was developed more than 10 years ago by AutoTec, LLC, a privately held company based in Birmingham, AL. AutoTec provides e-business solutions to the automotive remarketing industry. AuctionACCESS® is the industry standard for managing access to wholesale auto auctions. It is currently used by more than 200 wholesale auto auctions across North America, with further expansion into 70 countries around the world. Visit http://www.auctionaccess.com for details.
###