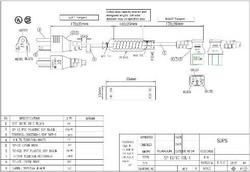 Our factory has invested over $ 25,000 to bring this important manufacturing process in-house rather than outsourcing the wire coiling services which dramatically reduces production lead times and offers the flexibility to control this tricky production process which really increases quality standards
Campbell, CA (PRWEB) January 26, 2009
Similar to a retractable telephone handset cord, coiled wires on power cords offer OEMs the flexibility of short manageable products while allowing the power cord to be functional up to five or six times the length of the cord in a relaxed state.
"Our factory has invested over $ 25,000 to bring this important manufacturing process in-house rather than outsourcing the wire coiling services which dramatically reduces production lead times and offers the flexibility to control this tricky production process which really increases quality standards," says Ivo Landre, President of SPDS. He adds "We currently supply coiled power cords to about a dozen medical industry equipment applications such as crash cart manufacturers and mobile medical equipment as well as network rack equipment manufacturers and other industries. It's very important to these industries to have high quality flexible products such as these power cords.
The manufacturing process is much more complicated that you might think. Here is how it works;
1. Precut wire is clamped onto a steel bar of appropriate diameter after carefully measuring desired tangent length (area of wire that is not coiled between the connector and the coiled area of wire).
2. The industrial lathe called a positive-directional coiling machine spins the wire around the bar until a pre-measured length is reached.
3. The other end of the wire is then clamped onto the bar securing the wire in the desired coiled state and setting the opposite end tangent length.
4. Up to 120 populated bars are loaded onto to a custom mobile oven rack.
5. The coiled wires are then put into the industrial oven which has been preheated to 230 degrees (110°C) and they are allowed to bake for 5 minutes. Then the oven is turned off and the wires remain in the oven for another 20 minutes for gradual cooling.
6. After removal from the industrial oven, the wires are sprayed with water for 5 minutes for further cooling and then are stationed under an industrial blower fan for 10 more minutes for final cooling and drying.
7. Wires are then removed from the steel bars and re-populated back onto the steel bars again in order to produce the proper amount of flexibility and elasticity. Wires are now coiled and ready for the next manufacturing step.
Visit our website for a PDF of typical top level drawing for a coiled cord. When ordering a coiled cord the tangent lengths (Step 1 above), coiled area length (Step 2 above), and the coiled diameter should be specified.
SPDS and our China factory are committed to continually adding more investment and in-house capabilities to further enhance product offerings and our competitive edge in the marketplace.
About Signal and Power Delivery Systems
Signal and Power Delivery Systems (SPDS) is a manufacturer of power cords and plug adapters. SPDS supplies OEM's in the computer, security, wireless, medical, networking and consumer electronics markets. SPDS offers a complete line of standard and custom power cords and cable assemblies, plastic molded products and virtually any interconnect and power solution. SPDS is firmly committed to providing the finest value for quality, price and service available in the marketplace. For more information, please contact SPDS at (408)871-7828 or visit our web site at http://www.signalandpower.com
###