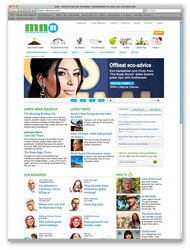 We selected Drupal as the CMS engine for Mother Nature Network due to the power and flexibility of the platform
Atlanta, GA (PRWEB) January 30, 2009
The Mother Nature Network, an environmental news and information website launched this month at mnn.com using an advertising supported model to fill the gap for green news and information that everyone can understand. Advertising veteran Joel Babbit and Rolling Stones Keyboardist and tree farmer Chuck Leavell teamed up to provide the destination for the average person to find environmental news and information at the national and local levels, read entertaining original articles and celebrity blogs, and allow users to create their own profiles and blogs and connect with other green-minded individuals.
The website also provides a new way for advertisers to sponsor sections of the site and promote awareness of their corporate green initiatives. "We have been exceptionally pleased with the response we've had from corporate sponsors that have been looking for a cost-effective advertising model to increase awareness to the public of their green initiatives", stated Joel Babbit, CEO and co-founder of Mother Nature Network. "Mother Nature Network is unique in the fact that we provide a way for corporate sponsors to show green videos, interactive flash animations, write blogs and even green games on their respective sections on the MNN.COM website that really tell a story about what they are doing for the environment in a way that simple banner ads can't", said Joel Babbit. "There is really no good way for the Fortune 500 to tell their green story on the web other than their own websites that get only minimal traffic. With the enormous reach that MNN.COM has provided in such a short time, corporate sponsors now have a new way to reach a fast growing audience that they would not have been able to otherwise".
The MNN.COM website is built around the popular Drupal CMS platform that allows Mother Nature Network writers, bloggers and editors flexibility to control content flow and publishing.
"We selected Drupal as the CMS engine for Mother Nature Network due to the power and flexibility of the platform", stated Fred Tanzella, CEO of Glick Interactive, the developers of the MNN.COM website. "The active Drupal community as well as our expertise in Drupal Module development made it an excellent choice to be able to help Mother Nature Network get to market quickly while providing an intuitive interface for users to navigate the site and experience all that Mother Nature Network has to offer. The MNN.COM website is hosted at Colocube in their Atlanta data center using Managed Hosting for Drupal."
"Seeing the enormous potential of the Mother Nature Network website to scale rapidly, we took steps to ensure that the network architecture was tuned to be as efficient as possible to handle the spikes in visitors due to high-visibility press and media events and increasing web traffic over time", stated Matthew Elkourie, COO of Colocube. "The Drupal scaling techniques and test harnesses we utilized provided a flawless launch and smooth operations for the MNN.COM website".
About Mother Nature Network
MNN - Mother Nature Network, is your one-stop environmental resource and an everyman's eco-guide offering original programs, articles, celebrity blogs, videos, and how-to guides along with breaking news stories. Mother Nature Network was founded by advertising veteran Joel Babbit and Rolling Stones Keyboardist Chuck Leavell.
About Glick Interactive
Glick Interactive is an Atlanta based web development and design firm that leverages the latest Internet and interactive technologies to make our clients successful. Glick builds high-volume, high transaction websites and enterprise applications for Fortune 500 companies as well as well-funded web 2.0 start-ups. Glick Interactive has won multiple awards including the Web Marketing Association's 2008 WebAward. For more information about Glick Interactive, visit: http://www.glickinteractive.com.
About Colocube
Colocube is an Atlanta-based hosting firm specializing in high-performance IT hosting with a global presence. Colocube is carrier-neutral and offers the richest connectivity and dedicated service options in the most secure and reliable colocation facilities for our customers' mission critical operations. Colocube has grown to be one of the most respected high performance hosting companies in the industry serving a global customer base. Colocube has partnered with premier companies that are leaders in their respective industries to provide best in class service to our customers. For more information about Colocube, visit http://www.colocube.com.
###