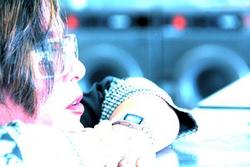 I wanted to create something very different and unique with a diva vocalist. I believe CEEVOX nailed it!
Los Angeles, CA (PRWEB) February 2, 2009
It's a plane! It's a rocket! It's a comet in the night! No, it's Jimmy D Robinson's IN THE NIGHT presenting CEEVOX! The new international dance hit is destined for legendary status as the single moves up the Billboard Club Play chart from no. 47 to no. 35 in only its second week. This bold chart move, enabled IN THE NIGHT to claim the coveted "BILLBOARD POWER PICK" of the week title.
"CEEVOX and I have worked tirelessly on this project together. IN THE NIGHT has a certain magical quality in terms of lyrics, styling and delivery," states poet, lyricist and producer Jimmy D Robinson. "Working with everyone involved on this track and perfecting the final mixes has been a magnificent journey. I must thank all those who contributed to the song. In the words of Hillary Clinton, 'It takes a village!'"
IN THE NIGHT is Jimmy D Robinson's second Billboard charting hit. The track follows on the heels of his top-ten hit A TINY SHOE, which is still currently ranking on the Billboard Club Play chart at no. 23.
"Talk about a rush! I love you Billboard DJs!" exclaims Robinson. "I wanted to create something very different and unique with a diva vocalist. I believe CEEVOX nailed it!"
The progressively futuristic IN THE NIGHT single features luminous vocals from club diva CEEVOX. The lyrics are taken from Robinson's poem of the same title found in his TIMEWARP poetry book. The remix project includes earth-shattering club mixes from Kinky Roland, Luverush UK, FC Nond, Eddie Baez, Josh Harris, Twisted Dee, Rafael M and Jose Velez. A stellar project with a beaming lineup! Checkout samples of 'In the Night' at http://www.myspace.com/jimmydrobinson.
CEEVOX performed this past month (1/3/2009) at one of London's biggest clubs, SupermartXe at The Coronet Theatre, where she debuted 'In the Night' to rave reviews. CEEVOX will also be performing at the Winter Party in Miami, FL on February 27th.
The IN THE NIGHT dance remix package is available at Masterbeat.com. Look for IN THE NIGHT to become available for purchase at many other online and retail outlets soon.
The "A Tiny Shoe" dance single emanates from Robinson's lead poetry track on his inspirational and uplifting MIND JUICE spoken word CD. The MIND JUICE full length compact disc is a collection of modern poems penned by Robinson, narrated by actor James Randolph and set to music by Grammy® nominated Bruno Linares.
About Jimmy D Robinson:
Robinson's works have earned him a sterling reputation in the world of publishing and music. Widely recognized as one of today's most prolific writers, Robinson's poems, musical stories, and lyrics reflect the hardships he has endured and the triumphs overcoming them. Penning his words with stark reality -- writing of the human condition--loneliness, love, desperation, and hope, Robinson uses his craft to convey his celebration of life. For several years, Robinson's highly praised poetry books have been gifted to presenters and nominees at the Grammy® Awards, the Radio Music Awards, the American Music Awards, and the Latin Grammy® Awards. Robinson's book and music collection is often distributed to children in U.S. school systems as well as those in high crime areas, prisons and shelters. His works have been donated to many people as far as Africa and across the continent of South America.
Contact J Music Group
561-602-1400
jimmydrobinson (at) comcast (dot) net
For more information please visit:
jimmydrobinson.com,
myspace.com/jimmydrobinson
atlasbooks.com/jimmyland
For media inquiries and materials please contact:
Jim Strzalkowski
Media Giants
jimstraz (at) aol (dot) com
t. (310) 860-6205
c. (323) 363-5094
http://www.mgiants.com
###