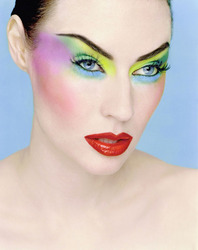 The Complete Guide for Models
New York, NY (PRWEB) February 4, 2009
The bestselling book, "The Complete Guide for Models", is now published in 4 languages. Eric Bean's bestselling book has just been translated into Russian to help models worldwide realize their dreams. Eric Bean, a successful fashion photographer working in NYC, gives a rare "Insider's View" on the modeling industry. The advice comes from his friendships, and interviews with top fashion industry insiders, including famous models and modeling agents, agency owners, casting directors, magazine editors, makeup artists, and health professionals. These experts debunk myths about the profession and try to help a new model navigate to the path of success.
Eric debunks myths about the "sex, drugs, and Rock and Roll" attitude most people have about the modeling industry. "A healthy lifestyle is essential to maintaining a long lasting career as a model. There are 200 models, all trying to get one job. I'm looking for glowing skin, a beautiful face, and a positive attitude. It's very tough competition out there, you have to stand out as something special."
"You have to stand out as a Star in your presentation, attitude and looks," Eric says. "Not everyone has the personality, hard work ethics, or the 'X Factor' to become a supermodel, all those traits all have to blend together to make the ideal model. If you're going to represent a million dollar company, you have to look expensive," Eric explains. If a model is representing a million dollar company, she's got to look like a million bucks."
Natural beauty is just one trait of a successful model, Eric explains the other 9 traits, along with important information on the business of modeling, in his popular book. Eric's conversations with modeling "legends" such as model Carmen Dell'Orefice, and Katie Ford, owner of FORD Models, reveals the tough and demanding truths, as well as the amazing rewards of being a model. Eric discusses the long road from "being discovered" to maintaining a long-lasting career.
"Some models start working from the very first week, but for most it takes years of hard work." Eric also describes the "behind the scenes" details of a New York City fashion shoot to find out if this business is really for you. "Models are always surprised at how many hours of castings, wardrobe, make-up, and travel go into one photograph."
Eric Bean is a fashion photographer who is based out of New York City. Eric started his photography career 20 years ago, working with almost every major modeling agency in NYC and is an expert on the modeling industry. Eric has worked for such distinguished companies as Harry Winston Jewelers, Salvatore Ferragamo, Avon Worldwide, and W Hotels. His online portfolio can be viewed at http://www.EricBean.com. Professionalism
Languages
###