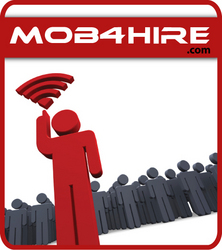 As a long-time mobile developer himself, John's expertise will help us continue to refine our collaborative testing processes with our global community of testers
Calgary, Alberta (PRWEB) February 6, 2009
Mob4Hire Inc., the leader in crowd sourced mobile application testing and virtual market research, today announced the appointment of John Carpenter as it's Chief Technology Officer.
John is an accomplished Geomatics Engineer and a pioneer in Wireless Location and Location-Based Services industries. He was instrumental in helping to create North America's first mobile location based game, "Swordfish(tm)" and continues to win awards for mobile games and applications.
John was most recently the Architect of Geoservices at Useful Networks. Prior to that, he was Director of Technology at KnowledgeWhere Inc. before it was acquired by Useful Networks.
John is a prolific industry and technology evangelist, posting frequently to his blog 2LinesSoftware He's sought after as an excellent speaker who can bridge the gap between technology and commercialization; his next speaking event is the 2009 National Science Foundation Conference on Media and Education in March.
"As a long-time mobile developer himself, John's expertise will help us continue to refine our collaborative testing processes with our global community of testers," states Stephen King, CEO of Mob4Hire. " Mob4Hire is uniquely suited to testing Location Based Services, so we're also excited that John's background will help us drive ground breaking global innovation in that area of our business."
"Mob4Hire makes such great sense," said Carpenter. "I wish crowd-sourcing had been available my whole career; remote testing has always been an expensive and painful experience. I'm looking forward to helping the Mob4Hire team make a positive difference to developers around the world."
With this appointment, Mob4Hire continues to grow it's technical expertise, with Richard Cooke taking over VP, Technology responsibilities. Based in the U.K., Richard will continue leading our database architecture and European technology implementation, such as the upcoming launch of Mob4Hire's platform as a backbone for the new O2 Litmus Developer Network.
The irony that Stephen King and John Carpenter are working together shouldn't be lost … "If you use Mob4Hire, mobile application testing won't be a horror story."
About Mob4Hire
With over 2,191 handsets on 233 carriers represented in 87 countries worldwide, Mob4Hire is the leader in real-world, crowd sourced mobile application testing and virtual market research. A Web 2.0 online community, Mob4Hire materially reduces mobile application testing costs and accelerates time to market by connecting developers with eager, less expensive, crowd-sourced testers and focus groups around the globe. Mob4Hire is a Cambrian House Ideawarz winner, is one of Backbone Magazine's top 20 Web 2.0 firms, won an Under the Radar "League of Their Own" award, and is nominated for both the GSMA Top Innovator award and Mobile Monday Peer award at this year's MWC Barcelona in mid-February. Mob4Hire is headquartered in Calgary, Alberta, Canada with offices in Victoria, British Columbia, and London, U.K. For more information, visit http://www.mob4hire.com, blog: Mob4Hire Blog, or contact Allen Poutanen, VP, Business Development, allen@ mob4hire.com.
###