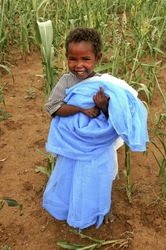 Seattle, Wash. (PRWEB) February 5, 2009
At the TED conference in Long Beach, California yesterday, Bill Gates released several mosquitoes to draw attention to malaria, which is one of the top priorities of the Bill & Melinda Gates Foundation. We hope that the widespread public attention to this speech will lead to new support for the global fight against malaria, a preventable and treatable disease that kills nearly one million people a year globally. Approximately 2,000 children die every day in Africa from the disease.
While the burden of malaria remains severe, we have seen important progress against malaria in recent years. For example, health officials in Zambia report that malaria parasite prevalence in young children has dropped 50 percent since 2006. A new, child-friendly malaria treatment is now on the market. And the first-ever advanced clinical trial of a malaria vaccine is about to begin in Sub-Saharan Africa.
The foundation and its partners are building on these success stories, and working to significantly reduce malaria deaths by 2015 with the long-term goal of eradicating the disease. To date, we have committed $1.4 billion to the fight against malaria. For more information, please visit: http://www.gatesfoundation.org/topics/Pages/malaria.aspx.
Our partners include MalariaVaccine.org, RollbackMalaria.org, MalariaNoMore.org, NothingButNets.org, and MMV.org.
###