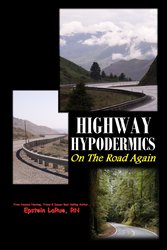 Top 10 Reasons To Love Travel Nursing
Grace, ID (PRWEB) February 7, 2009
Epstein Larue and Star Publish, LLC is happy to announce the release of Highway Hypodermics: On the Road Again, the third book in the Highway Hypodermics(tm) travel nursing informational series.
There is no end in sight for the nursing shortage. As the need for nurses grows, so does the usage of traveling nurses. Only through education can these nurses be properly prepared for their next travel nursing assignment.
Since 2005, the Highway Hypodermics(tm) series of books (On The Road Again, Travel Nursing 2007, and Your Road Map to Travel Nursing) has become an industry leader in providing quality information to traveling nurses and recruiting firms. Whether it's your first or fifth assignment, there is always something new to learn with this book.
Epstein not only takes you from the basics of the changes in travel nursing, what it takes to be a traveling nurse, what to look for in a traveling company, and helps you choose a hospital and assignment, but she also has included in this edition helps for the traveling physical therapist, occupational therapist, the traveling licensed practical nurse, and the traveling foreign nurse.
This book also touches on how to prepare for emergencies on the road, keeping track of tax information, independent contracting, traveling with a family, homeschooling, traveling in a recreational vehicle, PBDS testing, JACHO certification for travel companies, and state nursing boards. Closing out the book is a huge section with travel nursing stories from other traveling nurses and a special section with information on over seventy traveling companies.
There may be other books on travel nursing, but Epstein and the Highway Hypodermics(tm) series is the only one that has been a finalist in the USA Book News Medical Resources contest for two previous editions, with the last edition, Travel Nursing 2007, reaching number one on the Amazon Nursing, Issues, Trends, and Roles three different times. Don't leave home without the leading guide for travel nursing!
Highway Hypodermics: On The Road Again (ISBN: 978-1-935188-02-5) is available online at Amazon, Barnes & Noble, Blackwells, or Borders. Autographed copies can be ordered through Epstein's author website, Epstein LaRue HH2009 or her travel nursing website, Highway Hypodermic Books.
About Epstein LaRue: The writing world calls her Epstein, but reality calls her "Kay." No matter what you know her by, she is a lady of many talents. She has been a nurse since 1992, and has worked on medical, surgical, emergency, telemetry, rehabilitation, and psychiatric units. Her previously published works include: Love At First Type: An Online Romance (January 2001), Crazy Thought of Passion (January 2003), Highway Hypodermics: Your Road Map To Travel Nursing (January 2005), and Highway Hypodermics: Travel Nursing 2007 (January 2007). LaRue keeps herself busy by publishing a monthly eZine about travel nursing. Her article "Top 10 Reasons To Love Travel Nursing" and freelance writing for such magazines as Nursing2004, ORNurse2008 and EP Lab Digest. In 2005 she was named as a "Traveler of the Year" by Healthcare Traveler Magazine. Travel nursing is a dream that has become a reality. Although she was born and raised in the Oklahoma Panhandle, she has been a resident of Southeast Idaho since 1996. She is currently on a travel nursing assignment in College Station, TX, with Trinity Healthcare from Florence, SC. Step into her world and shoot yourself down the road with Highway Hypodermics(tm).
About Star Publish: Star Publish, LLC, has been producing quality books since 2004. In fact, Highway Hypodermics: Your Road Map To Travel Nursing was their first contracted book. They are a cross between a traditional publisher and self-publisher in that publishing fees are paid by the author to cover publishing costs, but they are like a traditional publisher in that not all books are accepted. Star Publish provides quality book production while the author keeps control over all aspects of publishing their book. For more information on this book and others check out: Star Publish, LLC.
CONTACT:
Epstein LaRue
c/o Highway Hypodermics(tm)
1416 S. Main Street
Grace, ID 83241
208-380-9583
Email: highwayhypo @yahoo.com
# # #