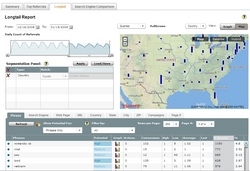 With our advanced keyword analysis features and enhanced visual geo-targeting
San Francisco and Santa Clara, CA (PRWEB) February 9, 2009
As the SMX West conference opens, discussions abound on how marketers can more effectively minimize investment risk in online campaigns while simultaneously proving ROI. At the forefront of those discussions is how search marketing automation and monetization solutions provider Enquisite, Inc. is helping online marketers thrive by turning data into action.
Today at SMX West in Santa Clara, Enquisite will unveil the latest version of its award-winning Enquisite Pro application. The new version includes geo-targeting reporting and opportunities analysis, giving marketers the actionable insights they need to drive campaign optimization.
Demonstrations of Enquisite Pro and its new features will be available throughout the SMX West conference at booth 424 in the exhibit hall. Product demos are available from 10AM-7PM on Tuesday, February 10 and from 10AM-3PM on Wednesday, February 11. Additionally, Enquisite Founder and President Richard Zwicky will be speaking on "Analyzing and Converting SEO Traffic" from 3-4:15PM on Wednesday, February 11.
"With our advanced keyword analysis features and enhanced visual geo-targeting," says Zwicky, "data analysis becomes more transparent. Online marketers who act on the insights delivered by Enquisite will be the best prepared to thrive in this economically uncertain environment."
Enquisite Pro, Enquisite's flagship product, lets marketers analyze how search terms fare within various search engines around the world, giving them the vital information they need to optimize their sites for the strongest target keywords.
Visual Analysis Leads to Greater Insights
Enquisite has taken its powerful search traffic geo-targeting capabilities to the next level. Now, marketers can visualize the locations from which their visitors are arriving--down to the state and city level -- thanks to Enquisite's new Map Overlays functionality. This gives marketers an at-a-glance view of search activity around the globe or around the corner by overlaying search data on a map.
"The industry has been buzzing for some time about local search, but until now marketers haven't been able to fully understand how their sites and campaigns are faring in particular markets," says Zwicky. "Enquisite's new geo-targeting and visual mapping capabilities let anyone immediately understand where their local search efforts are paying off, and which locations have untapped potential. Never before have businesses been able to identify local and regional search patterns so easily."
New Report Pinpoints Keyword Opportunities
The new Opportunities Report in Enquisite Pro pinpoints the keyword phrases that are driving referrals, actions and conversions from one search engine but not from others. For example, it would identify traffic driving conversions from MSN and Yahoo! but not driving traffic from Google, saving marketers hours of complex analysis.
About Enquisite, Inc.
Founded in 2006, Enquisite, Inc. is the leading provider of search marketing automation and monetization solutions. Through its suite of applications and innovative business model, the company aims to bolster search marketing by providing marketers with vital insight into user behavior, intent, and actions, and a quick path to monetization.
Powered by Enquisite's leading-edge Data Collector, the Enquisite product family includes: Enquisite Campaign - a groundbreaking campaign monetization solution, Enquisite Pro - an award-winning analytics application, and PPC Assurance - an advanced click auditing service.
Enquisite has offices in San Francisco, CA, Victoria, BC and Seattle, WA.
###