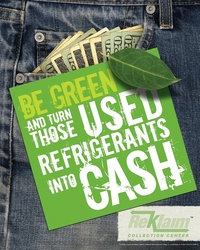 outstanding new products, new services or new ways to market
Atlanta, Georgia (PRWEB) February 10, 2009
Atlanta-based B-to-B marketing firm MLT Creative has been named one of nine finalists for the 2009 MAX Awards, which honor innovation in the field of marketing. The company earned its latest nod thanks to its work with Airgas, the country's largest distributor of industrial, medical and specialty gases and related equipment.
MLT Creative designed a campaign supporting Airgas's reclamation efforts, which were prompted by the mandated phase-down of the common refrigerant R-22 and other HCFCs. Targeting HVAC technicians and supply wholesalers, the Airgas refrigerant reclamation program includes incentives such as providing free gas reclamation tanks and paying wholesalers (and indirectly technicians) for returning their used refrigerant gas to Airgas.
"They came to us with this reclamation program, and wanted us to brand the program and promote it to the target audiences," says MLT Creative account executive Vann Morris, "we created the brand identity ReKlaim - to play off the fact that it was reclamation - and came up with the logo and graphic standard ."
To highlight the recycling and environmental benefits of the program while playing on the green in printed currency, MLT Creative modified it to read "Be Green and Turn Those Used Refrigerants Into Cash".
MLT Creative's creative strategy and messaging were directed at the HVAC technician, since they were at the forefront of the reclamation process. The marketing strategy was that, by simply promoting a key benefit/incentive to the technicians, they would collect more used refrigerant gases and actively seek out participating ReKlaim wholesale locations. This in turn would motivate wholesalers to become ReKlaim locations and grow the program network.
"They wanted an integrated marketing campaign," Morris says, "so we took ReKlaim and branded it over multiple platforms, including direct mail, print ads, banner ads, point-of-sale materials and collateral."
The ReKlaim marketing campaign MLT Creative designed for Airgas was unique in that no one had previously branded or marketed a refrigerant gas reclamation program.
"Initially, Morris says, "there were no ReKlaim locations. Now there are 230 ReKlaim collection center locations. And on top of all that, we're a finalist in the MAX Awards. That's so exciting."
The MAX Awards, now in its 17th year, are presented by the Department of Marketing at Georgia State University's J. Mack Robinson College of Business, in conjunction with the Atlanta Business Chronicle.
Honors go to "outstanding new products, new services or new ways to market" showcased by Georgia-based companies each year, according to the GSU Web site. Entries are also judged on the level of success with which they met upon implementation. Past winners include UPS, Jameson Inns Inc. and BellSouth.
Winners of the 17th annual MAX Awards will be announced at a special breakfast event 7:30 a.m. Feb. 27 at the Georgia Aquarium. All proceeds from entry fees and the event will go to support an Outstanding Minority Marketing Student Scholarship Fund.
About MLT Creative
MLT Creative (http://www.mltcreative.com), based on the east side of Atlanta, GA, with a Northeast office in Rhode Island, was founded in 1980. Known as the idea launch pad™ for B-to-B marketers, MLT Creative's services include strategic planning, positioning, brand development, advertising and sales promotions.
# # #