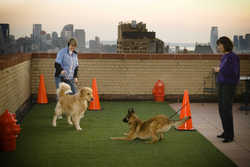 (Vocus) February 10, 2009
New York -- Top dogs participating in the 133rd Annual Westminster Kennel Club Dog Show take a break from preening and prancing for playtime on the roof-top of the Affinia Manhattan. Customized with astro-turf for four-legged friends of the world's most famous dog show, the Pet Playground featured amenities familiar and fancy, including plastic fire hydrants, Affinia Hotels' Jet Set Pet amenities as well as Peanut Butter Pupcakes from Affinia's Canine Confections Menu.
The Affinia Manhattan, A Suite Hotel At The Center Of It All, is located at 371 Seventh Avenue, at the crossroads of New York City's most vibrant entertainment centers, such as Times Square and Madison Square Garden.
Affinia Hotels has prime locations in New York, Chicago and Washington, D.C. Offering the industry's most innovative guest service program, My Affinia allows business and leisure guests to tap the ease and immediacy of the Internet to create experiences of total customized comfort. Operated by Denihan Hospitality Group, a privately-owned company with more than 40 years of hospitality management expertise, Affinia Hotels is a proud member of a worldwide alliance of hotels including Joie De Vivre in the United States, Thistle Hotels in the United Kingdom, Rotana Hotels in the Middle East and First Hotels in Scandinavia. For more information, visit http://www.affinia.com or call 1-866-AFFINIA.
Contact:
Maria Andriano/Caroline Michaud
Redpoint Marketing PR, Inc.
212.229.0119
# # #