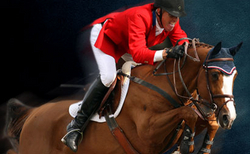 West Coast Active Riders offer talent and inspiration to lead the field and encourage up-coming riders
Burbank, CA (PRWEB) February 12, 2009
USHorse.biz announces new member West Coast Active Riders. This non-profit organization promotes show jumping, with West Coast riders (Zones 8-12), and develops young riders.
With a list of stars that include Will Simpson, Joie Gatlin, Leslie Howard, Julie Hancock, Francie Steinwedell Carvin, Leslie Steele, Helen McNaught, Rebecca Johanson Hofmann, Susan Artes, Keri Kampsen, Patrick Seaton, Jenni Martin, and Duncan McFarlane, this organization rocks. "West Coast Active Riders offer talent and inspiration to lead the field and encourage up-coming riders," said Will Simpson.
WCAR wants to highlight their members and offer them the benefit of:

Sending four teams to compete in the Junior & Amateur Nations Cup Competitions at Spruce Meadows
Sending WCAR teams to represent the United States in Europe
Plans to offer an annual tour in Europe for our young riders (ages 16-25), thereby providing them with invaluable international experience
Offering management, organization, and invitations to qualified individuals (including non-U.S. citizens) that wish to join our European tours
Providing educational opportunities for our members, such as the Meredith Michaels-Beerbaum clinic
Close work with Show Management to upgrade our sport and to address rider & owner interests
A Meritorious Rider Grant Program continues to give needed show experience to up-and-coming riders
This active group needed an on line presence that represented WCAR in a contemporary way offering features that serve their members and the organization at an affordable price. They also wanted the promotional benefit that USHorse.biz can provide, with a reach that goes beyond their show jumping dicipline.
USHorse.biz offers custom web design and promotion to its members. For only $99.95 per month your organization can have a custom designed site with SEO capabilities, hosting, and monthly changes. In addition, your site and news will be featured in our monthly newsletter that goes to 40,000 people. For information visit USHorse.biz or contact Judy Walker at 818-551-1251 or judy (at) ushorse.biz.
###