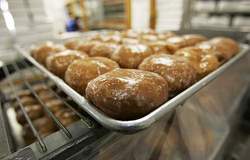 Hamtramck continues to contend with a struggling automotive industry, but our annual Paczki Day festivities remind us that the simple things -- a community united in spirit -- can mean the world
Hamtramck, MI (PRWEB) February 13, 2009
It's time for the 2010 Annual Paczki Day Celebrations in Hamtramck, Michigan's most diverse city.
On Saturday, Feb. 13 from 11 a.m. - 3 p.m. the City of Hamtramck will host the annual family-friendly Paczki Day celebration, Countdown to Paczki Day. This year's events will include a free paczki, polka music from Misty Blues, traditional Polish dancers, the Paczki Toss, the "Paczki Express" Historic Bus Tour, a visit from the Detroit Tigers' mascot, Paws, and much more. Admission is free.
On Tuesday, Feb. 16, the city buzzes with heady good times and gluttony galore. Hamtramck favorites, the Polish Muslims (http://www.myspace.com/thepolishmuslims), the Keilbasa Kings, Polka Floyd and others will make the rounds at various Hamtramck venues (see schedule at http://www.downtownhamtramck.com/news.html). Also, various Hamtramck bars and bakeries will commemorate the holiday with day-long bar crawls, givaways, traditional Polish drinks and food, plus sprited abandon. They don't call this February fun ''the Polish St. Patrick's Day'' for nothing, folks.
"Hamtramck continues to contend with a struggling automotive industry, but our annual Paczki Day festivities remind us that the simple things -- a community united in spirit -- can mean the world," says Eve Doster Knepp, Events Coordinator for the City of Hamtramck.
Additional hi-res photos and interviews are available.
Please take a moment to watch CBS Sunday Morning's Mo Rocca visit to the 2008 Paczki Day here: http://preview.tinyurl.com/paczkidayhamtramck.
# # #