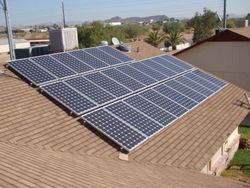 Mesa, AZ (PRWEB) February 19, 2009
Arizona Power Save, L. C. in Mesa, Arizona has announced the sale of 10% of its PV Solar Sales and Installation business to Power Save energy Corp. of San Louis Obispo, California.
Arizona Power Save's business model provides homeowners to receive a free (whole house systems approach) energy audit which reports the deficiencies on the home and offers systems and services to increase the efficiencies allowing the home owner to save 35% or more on the ever rising utility costs.
Ray Baxter, General Manager of Arizona Power Save, L. C. states that the deal was negotiated with Power Save's CEO Michael Forester. Arizona Power Save exclusive agreement allows us to purchase grid tied solar systems and energy saving devices from Power Save Energy Corp. a publicly traded company.
Arizona Power Save installs an average of 100 kilowatts of PV solar electric per month. Our marketing department calls over 5000 homeowners per day and sets appointments for energy audits. Our sales force performs over 150 energy audits per month and accounts for our huge success rate.
This coupled with Power Save's DTVR (Direct TV Response) advertising of over $100,000.00 per monthly budget on all the "GREEN" channels makes our phone ring off the hook with people who want to save energy.
Arizona Power Save leases 4000 sq ft of corporate office space in Mesa and has a 10,000 sq ft warehouse that services the installations for Arizona and the distribution of products to our 1200 Dealers nationwide.
The Company also has a 1200 sq ft seminar room with seating for 30-40 where it educates home owner's, realtors and companies about solar electric solar hot water systems and energy efficient products.
Arizona Power Save has licenses for general contracting, residential electrical, commercial electrical. Our sister company Arizona Solar Water & HVAC has licenses for residential and commercial HVAC, plumbing and gas piping.
Arizona Power Save is well positioned to take advantage of President Obama's push in the renewable energy sector.
The company can be reached at 480-553-5064 and is located at 4111 E. Valley Auto Dr. in Mesa AZ 85206. On the web at http://www.power-save.com
###