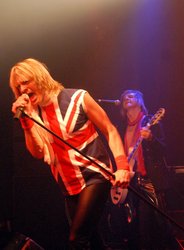 These are the acts that inspired and drove us to the music profession
Los Angeles, CA (PRWEB) February 18, 2009
Traditional tribute bands perform the music and dress the part of the artists they portray, simulating the experience of seeing the original artist live at the peak of their commercial success. But a single act tribute band can typically deliver only an hour's worth of recognizable music and booking additional acts to fill out event schedules is becoming less attractive to increasingly budget conscious venues.
Now a new rock show has turned the traditional tribute band concept on its ear by delivering multiple authentic tributes in one show.
The Platinum Rockstars feature tributes to six iconic rock acts who sold platinum (over 1,000,000 units) in their heyday: Journey, Boston, Foreigner, Van Halen, Def Leppard and Bon Jovi. The six blistering sets are built on a foundation of great showmanship, quick costume changes, powerful vocals and technical mastery of the music. The tributes start on a high note and never stop.
Founder and lead vocalist David Victor is a passionate vocal impersonator whose reading of the bands' legendary front men, from singing to stage presence, is nearly pitch-perfect.
"These are the acts that inspired and drove us to the music profession," says Victor. "Our enthusiasm is real, but it's the musicianship that makes the show work."
"This is irresistible music", says drummer Glenn Jost. "We've cherry picked the biggest hits from each of these bands, and we play them exactly the way the audience expects to hear them. I love seeing the looks on people's faces each time we tear into another one of their favorites." The band typically performs two thematically linked tribute sets featuring rock superstars from the 70s and 80s.
Few bands have the skill, talent and versatility to deliver multiple tributes, especially all in the same night. "It's really hard to do convincing tributes to these kinds of artists", says keyboardist Victor Bender. "Personalities like David Lee Roth and Steve Perry were unique and the production of the albums and vocals were huge -- that's what fans remember. But everyone in the Platinum Rockstars is a strong vocalist and a top notch performer and that enables us to deliver accurate renditions of these great acts in their prime."
For further information on Platinum Rockstars, visit http://www.platinumrockstars.com.
Booking Contact:
Dave Hewitt - DMH Enterprises
818.879.1452
http://www.platinumrockstars.com
###