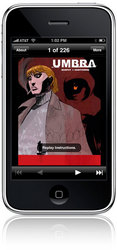 Umbra takes the forensic science, conspiracy theories and bizarre twists of the best TV dramas and conveys them perfectly in a stark, black-and-white graphic novel form
Kansas City, MO (PRWEB) February 18, 2009
Umbra, the critically-acclaimed murder mystery graphic novel written by Murphy with art by Mike Hawthorne, is available now on iPhone and iPod Touch, courtesy of UCLICK®, the #1 distributor of comics and manga on mobile. All three issues are available as individual downloads on the iPhone App Store at $.99 (US) cents each.
Umbra follows a young, self-medicating police forensic scientist named Askja Thorasdottir whose first big case involves the discovery of a strange skeleton hidden in an arctic cave in Iceland. From the outset, Askja finds the circumstances of the case extraordinary; several dark turns later, Askja's investigation imperils her own life.
Umbra received two Harvey Award nominations in 2007: Best Writer (Murphy) and Best New Series.
"Umbra takes the forensic science, conspiracy theories and bizarre twists of the best TV dramas and conveys them perfectly in a stark, black-and-white graphic novel form," said Uclick CEO Douglas Edwards, "and those elements merely scratch the surface of what makes Umbra so good. It's the intrigue, the character development and a statement about the motivations, machinations and frailties of humankind that elevate Umbra to a higher level of graphic storytelling.
"It's a testament to Murphy's and Mike Hawthorne's creative abilities that this story comes to life on the multi-touch screen as though it was made for these devices."
Uclick has created a collection of more than 100 comic book, graphic novel, comic strip and manga applications on the iPhone and iPod Touch, with hit titles Jeff Smith's Bone, Teenage Mutant Ninja Turtles, Ghostbusters, GODLAND and Halo & Sprocket, as well as webcomic collections Pibgorn, Basic Instructions and We the Robots and the manga hits Dramacon, Reality Check! and Guilstein.
The iPhone Uclick apps are available at $.99 (US) cents each and feature tap-and-swipe, panel-by-panel controls. The Apple devices' large multi-touch screens enable a clear, high-resolution presentation. The zoom feature allows an even closer look at any panel.
To get Umbra and other favorite comic books, graphic novels and manga for the iPhone and iPod Touch go to the new Uclick Web App by typing Uclick.com into the Safari browser or visit the App Store on the iPhone or on iTunes.
About UCLICK:
UCLICK® is the leading digital entertainment provider of humor, comic strips, manga, graphic novels, editorial cartoons, and other content for desktop, web and mobile phones. Uclick is also the leading creator and distributor of crosswords, and other word and number puzzles. Partners featuring Uclick content include the leading consumer portals Yahoo!, MSNBC.com, New York Times, Slate.com, washingtonpost.com, CNN, USA Today, and AOL. Uclick features include the top brand franchises Garfield, Doonesbury, Calvin and Hobbes, Paul Frank, Teenage Mutant Ninja Turtles, TOKYOPOP, USA Today, Pat Sajak, Wyland, and many more. Uclick creative content and services are available through the GoComics.com website, U.S. mobile phone operators, the iTunes App Store, and other distributors worldwide. UCLICK, LLC is a division of Andrews McMeel Universal, the leading newspaper syndicate and publisher of humor books and calendars in North America.
For more information on Uclick, visit http://www.uclick.com.
###